Confusion x Muckefuck Urethane collab 55mm / 100a skateboard wheels.
Specifically formulated to resist flatspotting while maintaining a higher rebound for a quicker response and a faster roll. The urethane is the perfect blend of grip, slide & durability. A harder inner core ensures a perfect bearing seat & smooth roll – ideal for all terrain skateboarding.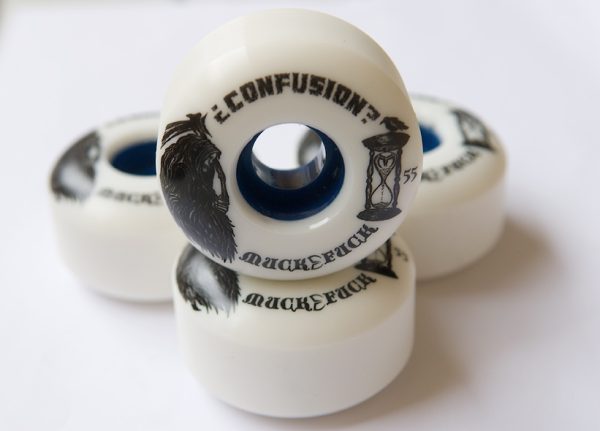 Muckefuck Skateboards and Muckefuck Urethane are a Austrian skate company that use only the highest quality ingredients in their products.
The Muckefuck Urethane formula has been extensively tested for quality and durability by the Muckefuck Urethane Skate team: J-Mag, Kevin Wenzke, Jarne Verbruggen, Julien Benoliel, Tobias Fleischer, Ralf Edlinger, Phillip Josephu, Volker Petersen, Tobias Kupfer, Roman Astleitner, Romi Erhart, and Marco Kada.
Buy directly here (http://confusionmagazine.bigcartel.com/product/confusion-x-muckefuck-urethane-collab-skateboard-wheels), or contact your local skateshop and ask them to order the wheels!
For more info, go here: www.muckefuckurethane.com