Arne Fiehl vom BOARDSTEIN in South East Asia 2023

So this event has been a while ago now and in this day and age that seems like eternity, so I try to keep this brief. In Mid-January I set sail to join my belgian friend Kjell van Hansewyck of MakeLifeSkateLife.org for their latest project in Vientiane, capital of Lao, where we were about to build the nation's first public concrete skatepark, which on projects like this is always quite an honor. Since my last project with them in Nepal MakeLifeSkateLife has changed their approach a little bit from the builder`s jams of previous years to smaller and more skilled teams which makes absolutely sense. Then again one of the best things about these kinda projects is that you always meet and get to know very special and genuine people from all over the world, and this time was no exception.
Already on site when I arrived where another belgian friend and absolute ripper on the board, dear Dieter Nys, whom like Kjell I`ve known for a couple years already from heaps of projects in Belgium and France. Then there was Wade Trevean from Melbourne and Samantha Robison from California, both part of MakeLifeSkateLife and Nepal veterans as well. Sam was busy documenting and keeing the whole crew stuffed with awesome food, thx again, honey! Eli Luther from the States was also with us, super great guy who knows concrete as good as life and his shred stick, but everything with a one of a kind approach. And last but not least there was Tom Drury from Broken Hill, South Australia, who got the whole project going in the first place. After having spent a few years all over South East Asia he got the idea that Lao which opened its borders to the world like two decades later than its neighbors needed a skatepark. And he gathered the first big part of donations by skating 4000(!) kilometers from Melbourne to Cairns on those rugged and boiling hot australian roads which took him a little over four months. Damn, quite a mission, Tom is a epic guy as well…
Together with local rollerblader Santi and french skate immigrant Caesar who found the right location at the Hi5 Football Field which by tuk tuk, the local transportation, is about ten minutes north of the city centre, they got in contact with MakeLifeSkateLife. Mind you, in comparison to other asian megalopolis Vientiane is more of a tiny and chill town. And when I visited the site for the first time I was blown away how advanced everything looked already, those guys had done a really good job in just two and a half weeks. That was bitchin', the next two weeks of work seemed like holidays to me.
Three days later three friends from India joined us consisting of Darius from 100 Ramps based in Bangalore and Khadir who were in Nepal as well and Subha who is originally from there. Next in line was Alan Kwan, an architect from Hong Kong who spent quite a few years in the States and was the only one who had never touched concrete before, but was curious to participate. And when Tom`s brother Paul arrived the crew was complete and instantly turned into a little family because we all had one common goal: building the nation`s first skatepark and having a jolly good time inbetween. And that's exactly what we did…
Thanks to Kjell's organization and no real obstacles within the building process everything went almost too smooth and two weeks later we finished the park four days before the opening which is pretty rare at these kinda social projects, at least from what I have experienced. Anyhow, we had just finished when the cavalry arrived in form of a little crew from Route One Skateshop in Bristol with teamriders Jordan Thackery, Jordan Sharkey, Rianne Evans, Amy Ram and photographer James Griffith. Top blokes who didn't have to help out anymore and perfectly blended into the first sessions and evening leisure times.
We then travelled north to Vang Vieng for two nights to party a bit and came back just in time for the grand opening which turned out great with lots of skaters from all over Lao and North Thailand which is just on the other side of the Mekong river. A couple best tricks were had, some local bands played and everybody had a blast. Because of the aftermath I missed the blessing of the park the next morning which still pisses me off. Yes, indeed, a local monk came to bless the park with a ceremony, and after 16 years in the business I would have loved to witness that. Santi and the guys even want to do some classes just for monks, they`re actually allowed to skate and there`s some skateboard monks already out there.
Of course, we brought heaps of boards for the project as well. I myself had 30 kilos of hardware with me, thanks to Rellik, Emillion and Soul Distribution. So there`s gonna be skate classes at the park for the kids to check out these 'useless wooden toys' and hopefully get hooked up for life. I think, in the end we had like 40 completes or something ready to shred. Since we actually didn`t have that many sessions together in the new park before the first people left and me having some major issues with my camera, I`m sorry, I can`t present to you more decent skatephotos. But in the end it`s always better to skate than to document other people`s skateboarding, right!?
All in all this was a super awesome project and a time to remember, and, yeah, Lao has a public skatepark now that will definitely help to grow the little but ambitious and skilled skate community. On the other side of town you already have the Caracter Skatepark with a big pumptrack, a bowl that is more like a ditch and some other nonsense. But if you can hardly pay the entry fee this is only an option every couple of weeks for the locals. The little DIY spot they had should be demolished by now since the property was already sold when we were there. So still a lot of work to do in Lao which without a doubt is one of the chillest and loveable countries I`ve ever been to. But same actually goes for the ones thyt were to follow.
Because after three weeks when everybody was gone I was ready to go as well, but not back home, my real adventure was just about to start. So I backpacked down south to Don Det and the 4000 Islands, a place which must be pretty close to paradise and a must go if you`re in Laos or South East Asia. I then made my way to South Vietnam and Ho Chi Minh City to fly to Hong Kong for eight days. I had thought about doing that before the trip because a friend of mine had moved there with his family from Shanghai. (There's a pretty cool clip about our visit to Shanghai seven years ago that my buddy Rasmus did, if you like my Asia clip you will love that one, too: Wo ist eigentlich Tmbo Tour? China Trip 2014)  So when I got to know Alan in Vientiane it was meant to be that I extend my trip and fly to Hong Kong for eight days, who knows when and if I will ever be in that part of the world again.
And, damn, that was a very wise decision because Hong Kong is one hell of a place and probably one of the craziest and most diverse cities on earth, probably one of the reasons I've always wanted to go there. Great spots all over as well so let's just say, it was well worth it in all aspects, much love to Lucas and family just as Alan, we shall meet again…
From Hong Kong it was back to Ho Chi Minh City and from there I made my way to Cambodia, spent three days in Siem Reap at the Temples of Angkor – another must see for every human on earth – and some time in a small village in the jungle that lives of ecotourism. After that I had a perfect ending of the trip in Ko Kot and Ko Chang, two paradise islands in the South East of Thailand. And after three nights in Bangkok and travelling for nine weeks in total I had to head home, and never before did that feel so bad…
Usually I have the tendency to not travel the same place twice, but I definitely wanna return to South East Asia, the sooner the better. I had such a great trip and time with no hassles and easy travelling. The region is just made for that, the best people you could ask for, beautiful nature and amazing food, as well as easy accomodation and transportation all over. And everything is pretty damn cheap if you compare it to the western world, and always sunny and hot just the way I like it. But the people really make these countries so wonderful, each single one of them. Friendly easy going people who respect other human beings and their life and pleasures. So you don`t have to watch out and for your gear all the time, not like in Africa or South Anerica where you at places can`t walk the streets at night. Buddhism really seems to be a good thing, I felt welcome and safe the whole time, and people actually care about you and your well being.
I can highly recommend going there and enjoy it yourselves, besides Thailand skateboarding is not really on the radar yet, especially outside the big cities, but please don't tell me there ain't no spots in Asia. Of course, they're usually rough and because of all the people and traffic most of them only skateable at night. But then you just have to get a little bit creative and ride 60mm wheels like me, it for sure helps. Skateparks seem to be the exception though, but I prefer the streets anyway as the clip should prove, and I had lots of fun doing that, blood, swaet and tears included. The local people didn't bother at all, but neither were very interested. Then again you get smiles and thumbs up everywhere if you carry a board.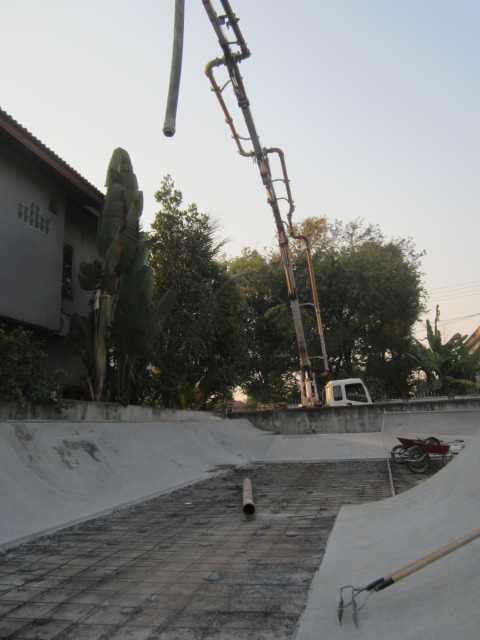 And if you want to see and maybe even read more about my trip you can check out my blog on BOARDSTEIN.COM with lots of photos. The words are in German, but there's a pretty decent translator out there…
Thanks heaps to everyone involved in this trip, I had one of the best times of my long long life…
See you out there, now go and get some!
Much love,
Arne Fiehl vom BOARDSTEIN