Portland, Basel, June 2013
«Why can't we have a spot like this in Milan?»
Novellino Body Shop, Milan, August 2013
«Think about what we can do right here…»
Nowhere, January 2014
«Existing words can't describe the taste of shit, rot and blood that the law's mouthwash has left inside us: even though the "power" has often changed the label, in the "permanent crisis" era the only available flavors remain "castor oil" and "repression"»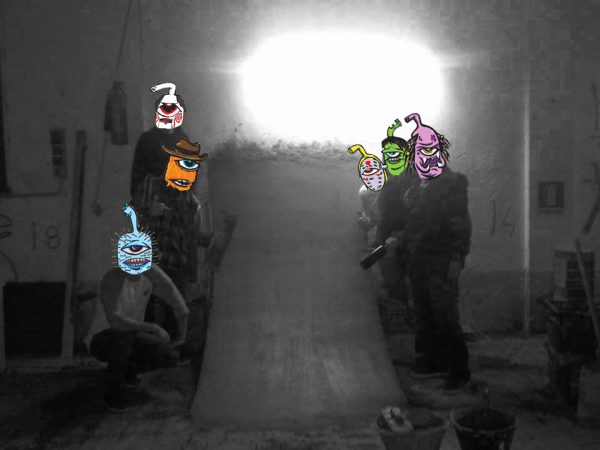 Concrete is the material on which the people that try to govern us have founded their emperor of fluxes, temporary idols, bi-dimensional prophets, heroes without swords. We have grown while playing with it. While drawing in three dimensions imaginary curves and corners, we have shown our own independence from the "legal" idea of space, our own autonomy in respect to the experts' "professionalism". DIY means that if you want a quarter with two meters of vert, you'll do everything you can to build it up: shit can't be held back too long; you want to shit out the quarter in the same time you are imagining it.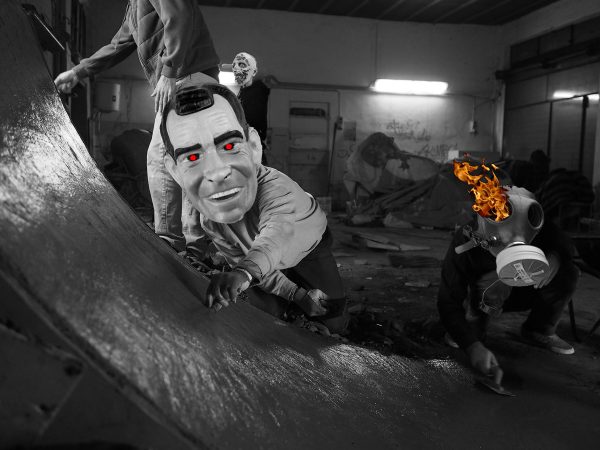 Concrete that you've patiently smoothed with your own hands (increasingly experts, increasingly capable) makes a sound that's incredibly different from anything ever heard: it is the sound that only those who have mixed their own sweat with the molded matter can experience. That's the potential vibration of a free human being. «Even if tonight's session will be the last one, anyway it has been worthwhile»… the incomprehensible ratio's perfection between ray, hight and flat left us down, surrounded by ruins and laughter. A portrait of satisfaction was printed on our faces. «Let me drop in now, so I can ruin down immediately». Nothing new: the awareness of physical pain, the taste of blood, the stubborn refusal of the limits imposed by the body, them all are integral part of any skateboarder's history. Indescribable the joy of carving higher and higher on those walls, unreachable for the "majority": just a few of us had the opportunity to experience these sensations inwards those four walls. Just for one night we've tasted the power of Our transitions, the value of Our efforts, the freedom enunciated by the sound of our wheels on that fucking concrete. Just for one night the Circolino's friends had the opportunity to observe a millionth of the tricks we could do with those two quarters. Dozens of nights spent while perfecting the design. Exhausting researches to find the materials we need. Meaningful Time passed while enforcing a cohesive, solid and organized working group. Some of us will surely say: "I've never experienced something like this". Total autonomy. Pure skateboarding.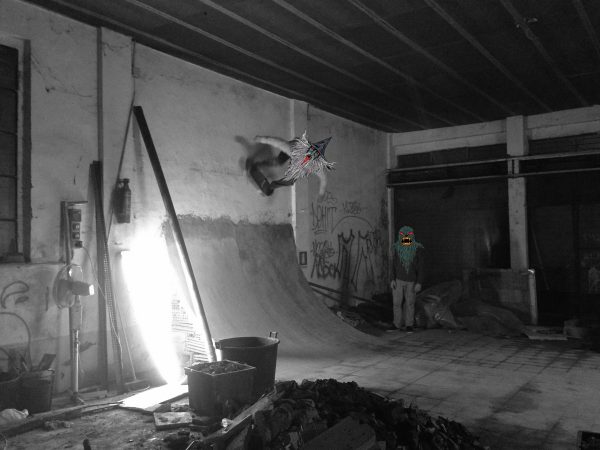 We thought that armed concrete was proof against any police's clearing out: now we know that's not true.
Last thursday (the day we were supposed to fixed the roof of our bowl) a group of plain clothes infamous, attended by a thick troop of blue playmobil, went to Carrozzeria Novellino to make operative the sacrosanct right of "democracy" to destroy what free human beings are trying to build up. Last Thursday, as it has happened several weeks ago under the Rubattino bridge, the lords of Order have established that an empty "non-place" is better than any place to experiment legitimate and creative practices… practices that unfortunately are incompatible with the present institutional legality (this is what is written on the books of those whom send around the pigs). «Would you like to gratuitously spend your own time to build up an open and free bowl with your friends? You can't, that's all. This is what the law says».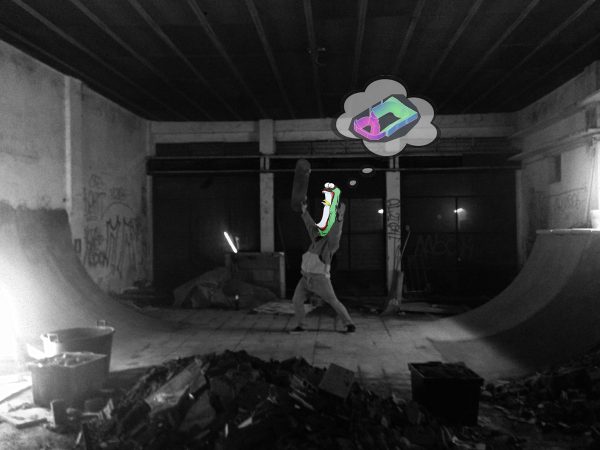 The question is: «Are we really able to stop? Will our bodies be capable to accept the violence of the methadone that they've squirted in our veins?»
They sunk our ship: but in this artificial ocean of concrete that surrounds us, we don't even need any lifeboat… because in this fucking ocean we are the fishes and in any case we won't drown. Because metropolis (our element) is the air that we breath. We'll survive for a long time, between the metaphors and the syllogisms of this "infamous speech" that the lords of Order try to make us swallow everyday. And with us will survive the stirring to "shit around" more and more concrete, in any spaces that we'll be able to occupy with our wish of collaborating, to push this stuff where the common comprehension can't go, beyond our own limits. Now, more than ever, these three words and ten lettered mantra assumes such an incredibly touching value:
Skate or Die!
Carrozzeria Novellino Skateboarders