The 3rd issue of CONFUSION "international skateboard" Magazine is at the printers and will be shipping out August 20th.

100 pages, offset print, on matt paper. A5/half mag size/full color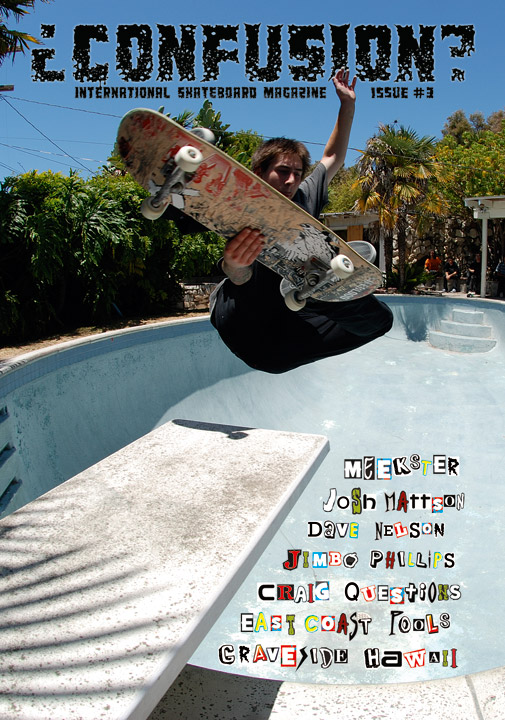 Issue #3 features:
Josh Mattson (USA)
Dave Nelson (USA)
Johannes Gabler (Germany)
Craig "Questions" Scott (England)
Keith "Meekster" Meek (USA)
Jimbo Phillips (USA)
Skeeter Thompson from SCREAM (USA)
And on-location features from:
Cuatro Casas (Baja, Mexico)
Graveside DIY (Hawaii)
Mooscrete DIY (Germany)
Innsbruck DIY (Austria)
and of course much MORE!!!….
SUBSCRIBE NOW to receive ISSUE #3, hot off the press.
Subscribe to Confusion Magazine or buy t-shirts, mesh hats, or back issues at: http://confusionmagazine.bigcartel.com/
Confusion Magazine represents the underground, DIY international skate scene and culture; the under represented, not the over promoted. Additionally focusing on non-commercial music, hardcore surfing, and skate related art. Available at hardcore skate shops around the world.
SUPPORT NON-CORPORATE MEDIA!
SUPPORT CONFUSION MAGAZINE !