Skate PUNKS NOT DEAD (Part 1 of 3). By Jon Steele.
November in Hawaii brought huge swells and an abrupt closing of the Banzai skate park on the North Shore. A closing that would supposedly help the park grow with construction. But at the time of writing (Jan. 9) not a lot has been worked on and it's been dormant since the closure with minimal work being done. This all happened during the peak surf season, right before the surf industry descends on the infamous North Shore for the triple crown / big wave season. The city decided to shut down the Banzai park to add on to it with a street course and permanent parking. Sounds great, and a week long job, but as our government fails us yet again, they haven't been working on it. It's been closed off and they filled the whole park and bowl full of dirt. Yes, locals are stoked to get the well needed upgrade but there couldn't have been a worse time to implement this. So every kid who got a skateboard for Christmas has been denied dropping in or just rolling around for who knows how long… So, what are our options?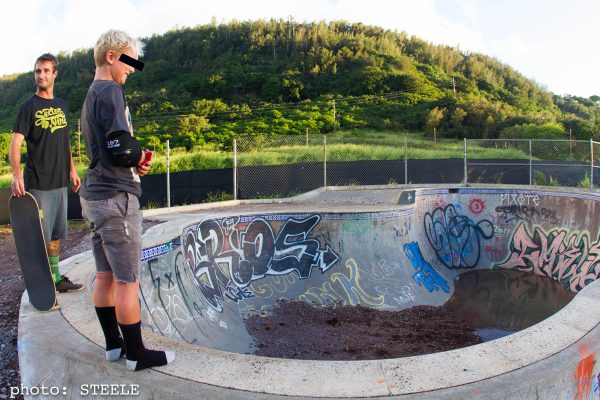 There are always options… with a slew of strategically placed back yard ramps and DIY spots that need to be started just to keep it fresh. Look hard enough or buy the locals enough beer and the mini ramps scattered around the North Shore will appear to the right traveler – some are even protected from the constant passing winter showers. Or under the full moon light, one can simply dig and sweep dirt out of the skate park and skate whenever you want, as a true skater should… Anarchy at its finest.
Words and photos by Jon Steele