October 1st was a momentous day in Cologne with the opening of the first concrete bowl. Built by IOU Ramps and the local skaters of Cologne, the OWL BOWL is located at the NorthBrigade Skatepark, which has been open since the 1980s. Skaters from around Germany showed up for the opening party which was graced with sunny skies.
Intus ripper Lennart "Lensen" Efsing ripped every inch of the bowl for hours winning the contest and taking an Owl trophy back to Düsseldorf with him. Other stand outs were Johannes Gabler, Maxi Häring who came from Münich to build the bowl, Dennis Degenhardt, Christian Pelz, Aries Riepelsiep, Marcel Weber, and Philipp Vollmar. It was a fun action packed day and I think everyone there had a blast!
Thank you North Brigade for giving the transition skaters in Cologne somewhere to skate so I don't have to journey to a different city to go skateboarding. – J. Hay
Sponsored by: Northbrigade, Wasted Box, Circa, Gaffel Kölsch, Hoax clothing, Skullcandy, Confusion Magazine, Independent, Creature, Spitfire and Black Label.
Photos by: Kai Jabs (except where noted)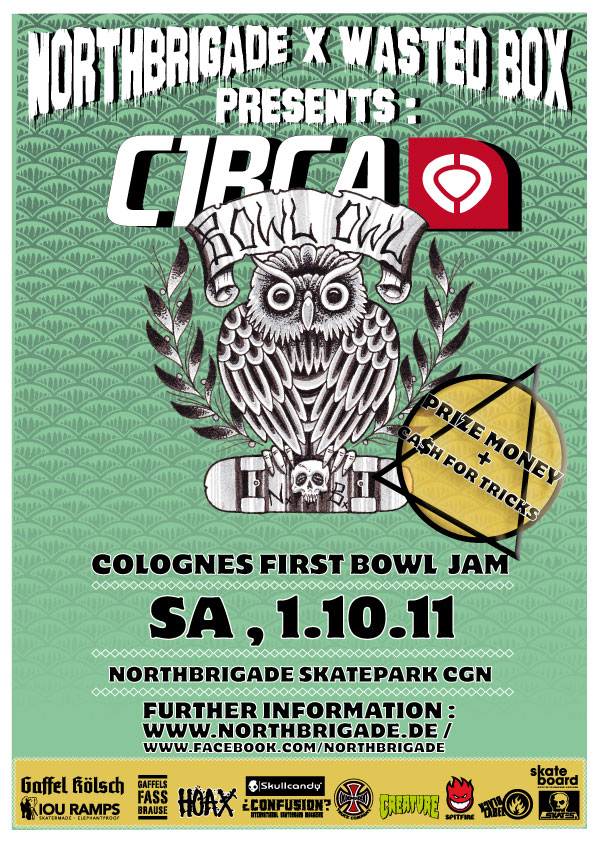 Read about the building of the bowl here.
After skate photos by Tobias Haussmann: