We're trying to transfer our skate park from where it is now to a new land!

This is PFK SKATE SUPPORT CENTER 100% DIY nonprofit skate park located in Itoshima Fukuoka Japan. This park has been around for 8 years but unfortunately it has to be closed and demolished. long story short we had a few skate boarders got injured here and the landlord doesn't want us to stay there anymore so we decided to tear the whole park down and buy land to build new one. it costs $10000 for the demolition and $20000 for new land but there is no way we can make this much money. HELP US!!!
Click here to donate: www.indiegogo.com/projects/help-pfk-skate-support-center-band-community#/
Please consider donating to the new PFK.
If you are unable to donate, you still could share with others especially like the folks that you know who have been to PFK or trying to come to Fukuoka to skate in the future.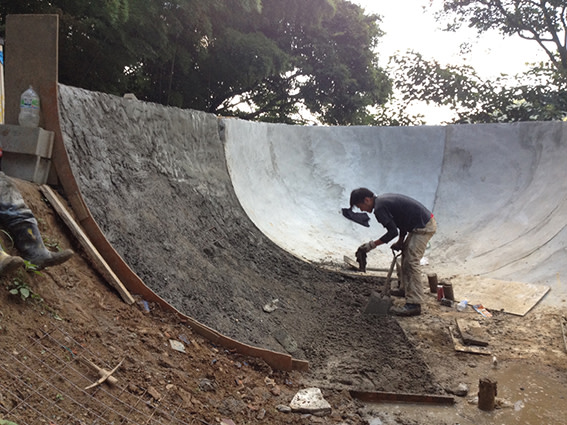 Here is the founder of PFK Shuzo Honda's words:
"We're deeply sad,feel like falling in a hole that has no bottom.
It sucks to tell you that PFK skate support center has to be closed at this location in Itoshima, Fukuoka, Japan.
We're so grateful to our landlord who let us build what we want for the past years but yes, PFK in Itoshima is DONE.
• Station a park ranger 7 days a week.
• Helmet requirements
• Personal injury consent form for everybody
We could not say yes for these new agreements he wanted us to follow if we want to keep the spot but this means death to us, skateboarding is NOT a sport so we decided to leave.
I think this is one of the biggest subjects that we need to find solutions of for the whole world.
again,
skateboarding is NOT a sport.
skateboarding is skateboarding.
I would like to say thank you to the owner of the land we were very lucky to have him as a landlord for sharing PFK with many laughs.
Now we need to tear whole PFK down to the ground and get out there where so much love and soul of friends were.
This is a story of tragedy for the history of skateboard.
Whatever it is, I believe that I didn't do anything wrong.
I just love skateboarding and I just did what I had to do.
I flew out to Pennsylvania eight years ago to skate at FDR I stayed there for only like six hours then I came back to Japan.
I started building PFK by myself with only six hours experience of FDR.
I am grateful to FDR.
There was no teacher.
Everything was a repetition of failure when I started.
PFK was built by only a few people. I remember there was some lucky days that we had an extra guy for the help but there was usually only 2-3 guys including me.
You know what it's like, it is straight up hell.
PFK was a miracle of insanity created by very few people and a cement mixer.
I've been skateboarding and playing hardcore/punk music for over 20 years and these two things established my ideas and philosophy.
These two also made me meet all kinds of people and experience many things.
I'm so happy living my life with them and I will never quit.
I worked as a husband, I lived as a daughter's father and I spent every yen to build PFK.
I beg you to help me.
It is very hard for me to have much money to make the whole place flat and rebuild it somewhere new since I have a family to feed.
My passion of skateboarding will never fade. We're still STOKED.
The evolution of skateboarding continues here on earth.
Thank you very much.
DIY BEST EVER."
PFK honda