This is the third year that we (G'nassis) organized the Malinas Machinas event in Mechelen. The first year we didn't really knew what we were doing, but we knew that we wanted skateboarding, bands playing and the bowl filled up with water for a pool party. And that all ended up super good, so we decided to do it again the next year in pirate-style. Which was great too! But the government and the police didn't think the same. So we had some difficulties to get the permission of the government this year and no financial support from them, but Vans solved this problem.
Only two weeks before the planned date of the event we got the permission to organize it within certain restrictions, because they were afraid of losing control over it. So we had to give in a bit, but we decided not to give in a lot so we could end the Malinas Machinas in style, with no regrets and without losing the soul of it!! And like they say: "It's better to ask forgiveness than permission!"  The flyer was finished before we ever really got the permission – it was going to happen no matter what!
Malinas Machinas 2013 / Horrorave edition

This year we did it in horror/rave style. The first day we had built the gallows and the guillotine. The energy in the skate park had changed a bit. The next morning we had to call the ambulance for a guy who had a open fracture. In the evening a local kid broke his arm so we had to call the ambulance again. While helping the kid on the stretcher, one of the nurses fell down from a bank and we had to call another ambulance for picking up the nurse! She ended up with a broken wrist and twisted ankle and we had to carry her on a stretcher into her own ambulance.
We considered this as a sign, so we bought a first aid kit at the grocery store, which luckily we didn't have to use during the event. We hope that everybody had a great time in the past three years but now we think it's time for something else!  – Den Benne
Photos by Fleur Vandenbosch and Dorien Peeters.
Photos above by Fleur Vandenbosch
Photos below Dorien Peeters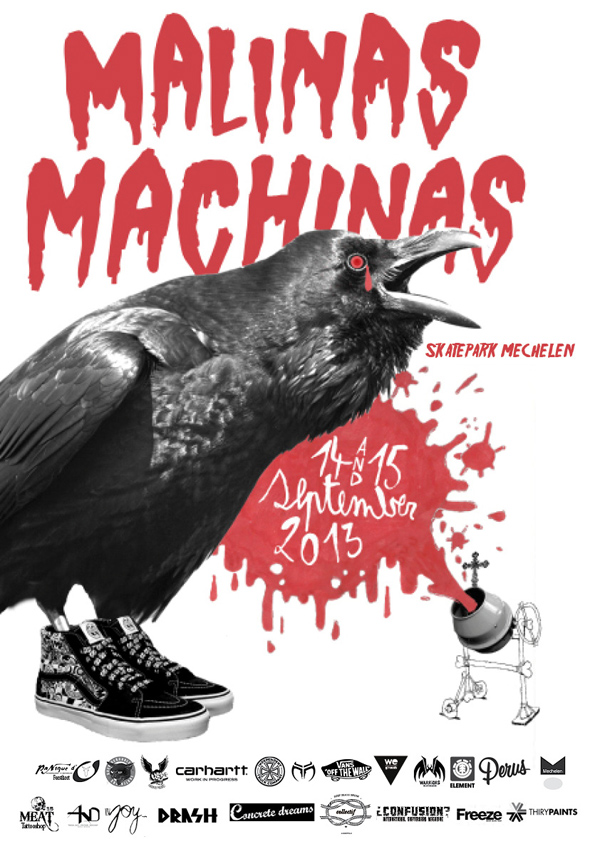 To check out last years Malinas Machinas II (Pirate edition), click here.
To check out Malinas Machinas (park montage I) by Ralf Goossens click here.
Video by Wim Dewaele