This Saturday night (June 2nd) there will be a video premiere of "BREATHLESS", a film by Arthur Bourdaud. The trailer only plays in some countries: http://www.youtube.com/watch?v=J6Sd9U-Ti64>
Breathless features a lot of DIY spots so the locals at Pont Bellevue decided to organize a lottery and a fundraiser during the release of the DVD to get money to buy more concrete for their local "under the bellevue bridge" spot.
Some photos of the progress of Pont Bellevue. SUPPORT YOUR LOCAL DIY PROJECT!
Scroll down to see how you can help support Pont Bellevue (and buy the DVD).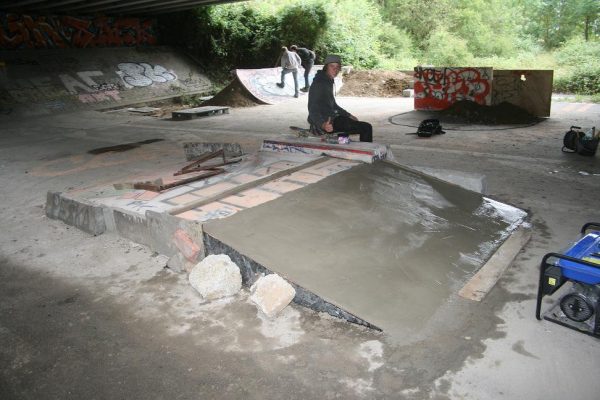 This Saturday at 8:30pm at the bar "Le Canotier" in Nantes, France.
This is how people can buy tickets for the lottery :
Pack BELLEVUE (1 DVD + 1 ticket): 7 euros (+ 2 euros per additional ticket )
Pack SAVANNA SIDE (1 t-shirt + 2 tickets): 15 euros (+ 2 euros by additional ticket )
Pack BURNSIDE (1 DVD + 1 t-shirt + 3 tickets): 20 euros (+ 2 euros additional ticket
EMAIL Arthur Bourdaud to buy a ticket/DVD/t-shirt.
Many prizes to be won from Playart, EYE, Click skatestore, Milk Skateshop, NDJ skateshop, Ride-all and Converse.