Words and Pics: KASPER
Video: Clayton Graul
"Got a call to battle this again today at 6" , is what the text read that I got from Clayton Graul. Pictured was one of the best permission pools in the Antelope Valley. I grew up in the area, but haven't been back in a while so I was more than stoked to be able to go back to the city that I started skating in. After rounding up the War Pigs Krue and a short 1 and half hour drive, we were in Palmdale.
The city is a suburban dream turned methamphetamine nightmare. A desert retreat for all the misfits, gangster and drug addicts from Los Angeles to find cheap housing. But as we may all know as skateboarders, these areas make a great destination for back yard pools. Fortunately, this pool, we did not have to barge, because the owner of the property, Keith Stephenson, bought the property because it had one hell of a pool in the backyard. As we walked alongside of the house to the backyard our shoes shuffled around old piles of dirty clothes and trash. We turn the corner and see one of the best backyard pools I have had the pleasure of seeing.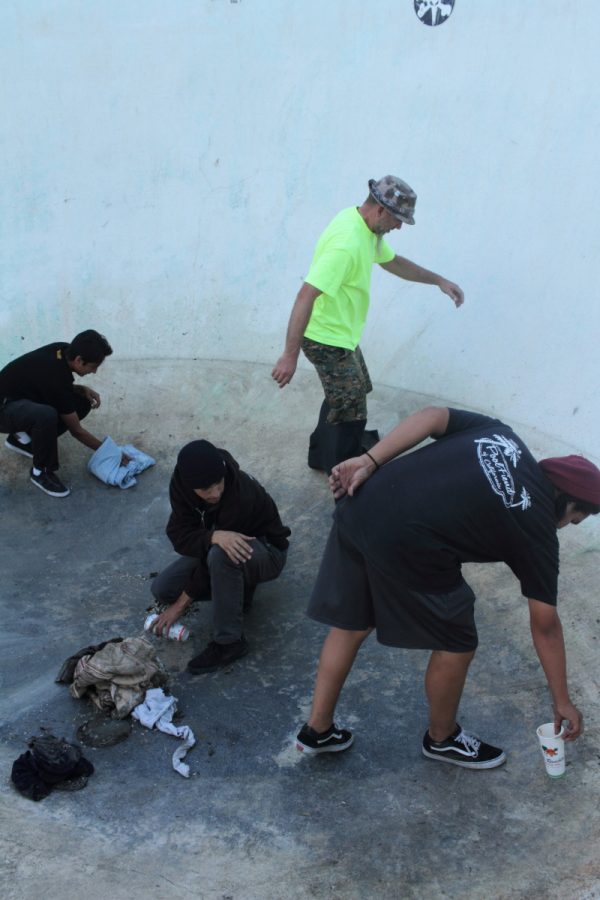 Keith (the owner) and Kenny were knee deep in sludge and muck with buckets and shovels. "The fuckers who lived here before trashed the place" Keith screams out from the pool. "Now I know why I got a call to come skate. To help clean" Clayton says jokingly. Kenny informs me (while he changes the bulb to his the overhead lights he has amazingly rigged with a retractable line) that it has been awhile since a session has gone down, since they rented the place out to non skaters (before that the place was rented out to skaters).
But now the place is empty and we were the first invite for a sesh in a long while. After cleaning up the deep end with shovels and old dirty clothes, the pool was ready for shredding. The sesh was heavy with beer, music blaring and smiles all around. This pool, which was built in the 50's by a pool designer, who owned the property at one point, has a design not seen in most residential backyard pools. It's huge and the flow is like skating in a park bowl. We were stoked to get the invite and hope that Keith puts on more events like the "Great Desert Pool Duel" he put on in 2012. Let Skateboarding take you places.
Video By: CLAYTON GRAUL


Palmdale Pool Project from Confusion Magazine on Vimeo.
Video by Clayton Graul
War Pigs Krue turns a little desert rat after they shred up Palmdale's Pool Project permission pool