When I arrived in Ayacucho, I was invited with Bruno (Concrete Dreams) and Benoit (BRUSK) to build a mini-ramp for Mama Alice, a dutch NGO which works with children and wanted an infrastructure for teenagers. I used to organize concrete skateparks workshops in Belgium, and we did the same here in Peru. I met a girl and decided to come back and try to live my life here. It was four years ago now, my Peruvian child is two…
At the time, the mayor of the local district already had in his pockets the plans of a public park for the city, with a skate park included, and every time we would meet, he'd repeat: "Hey, Pierre, you're gonna build our skatepark"… I even supported him during the city elections (which he lost…). To be honest, after a few years, I really started thinking this was all bla-bla-bla, and the park would never exist.
One day last May, I was in a drugstore and I heard his voice saying "Pierre, the building of the park has started, we need you to work on it now!". That's how things are going here: no plans, last minute for everything, I don't know if I'll ever get used to it…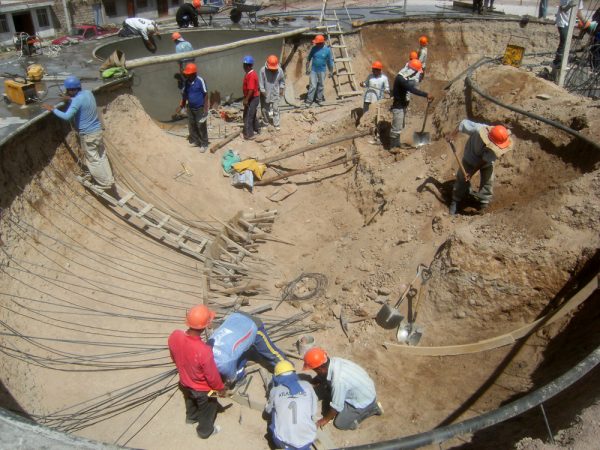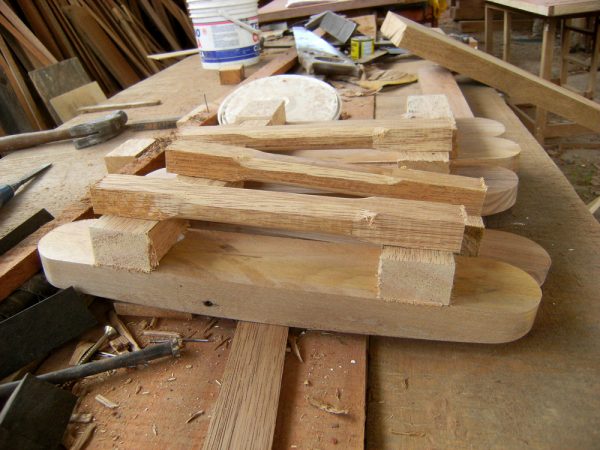 As a good structured European guy, I quit my jobs as a French and English teacher and started working on the building the next Monday. I didn't know what I was doing… When I got there the first day, I had no contract (I'd have to wait two months to get my contract and three to get my first check…), there was no engineer in charge, and no materials.
They gave me complete carte blanche to change the original plans. I just had to cope with the original geography of the park, a symmetrical drawing with two flat bowls and four uninteresting reservoirs, which was a nice constraint to work with. I had plenty of time: during the first two months, we couldn't even raise the ground (we needed to raise it three meters (nine feet) in some places to get up to the platforms height). After I finished the plans, I almost went crazy doing nothing, until they suggested for me to retire for a while, until the terrain would be ready. I stayed home for one month.
When I got back, time had run, three months had passed since the building had started, and they only had finished a mini-soccer field and the surrounding wall of the park, and they needed to finish the whole skatepark… in a month. They hired more than 40 men in total, and started to make things run. It was a complete madness for me to try to maintain a quality work in such conditions, I had to face the whole hierarchy, engineers, site manager, to get good tools, to be allowed to touch the concrete, to adapt the shapes on site… to be honest, I almost quit on various opportunities.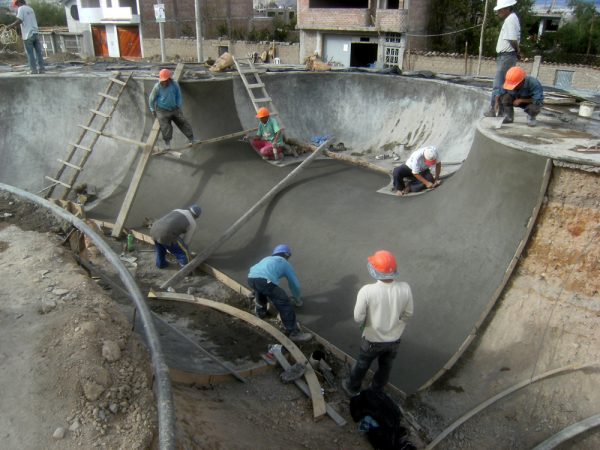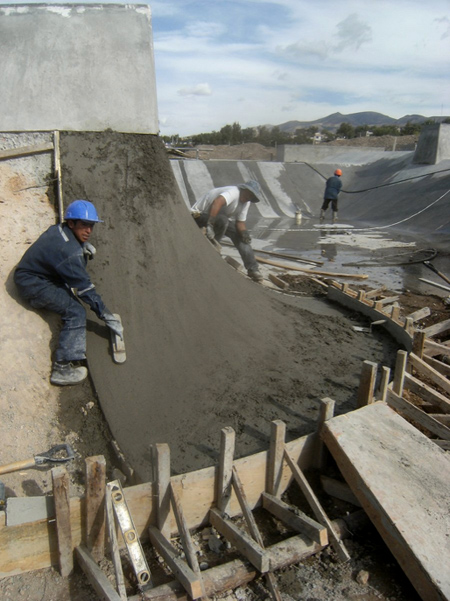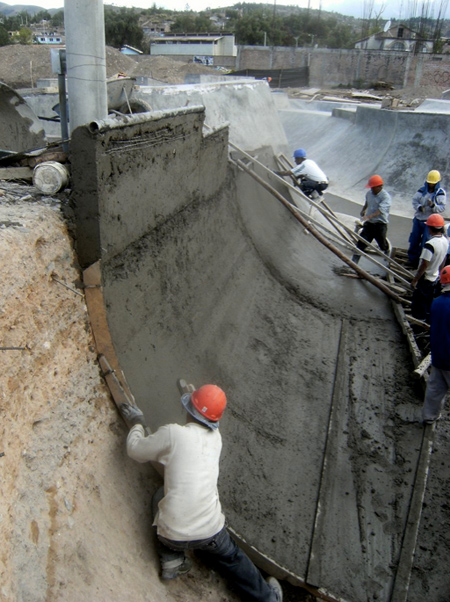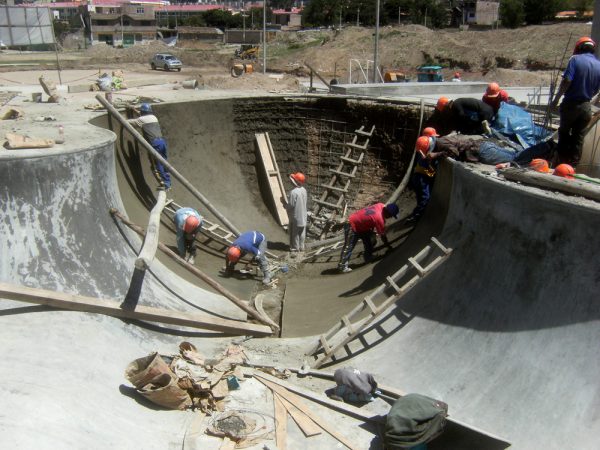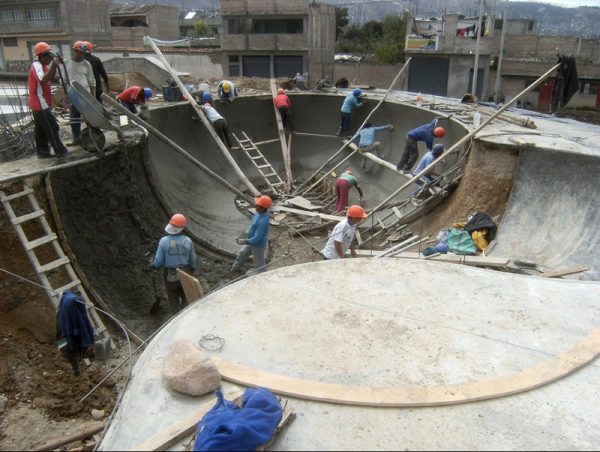 The rest went so fast I even can't realize it's over now. We started digging incredible quantities of mud by hand, pouring incredible quantities of concrete with a single mixer working from 8am to 3pm almost without interruption. All the workers did a great job, and some of them have become good friends. I got into a fight with the site manager and the workers had to stop me before it got bad. On his bad days, the engineer didn't even greet me, he was pissed because they had asked for an extra month and we were passing it. On his good days, he asked me to improve a tiny tunnel part, which I changed into a cradle, and we got a park that is the biggest in the country and probably one of the best in South America?… I'd like to know more about that question…  In the end, we spent more money than planned, we took more time, I ended up exhausted and empty, but… The spirit of the skateparks I learned from Team Pain buddies when they were in Europe, with my friends of the BRUSK, CONCRETE DREAMS, CONCRETE FLOW and MINUS teams has been poured here, and I hope there will be more to come. – Pierre Jambé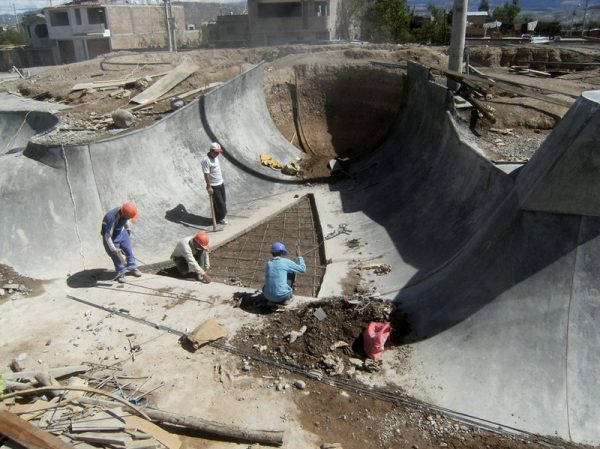 By the way, Ayacucho is a city of 200,000 inhabitants with a huge colonial and pre-Colombian history. It's 2875m high in the mountain, it has the oldest human colony in South America (20.000 years prehistorical cave), the capital of the first Peruvian empire (WARI, 1000 years before the Incas), 33 colonial churches, one of the most famous carnivals on the southern continent, the best downhills you can dream of, incredible food and a great countryside. If you come by, there's a bed and breakfast at home. Just contact me!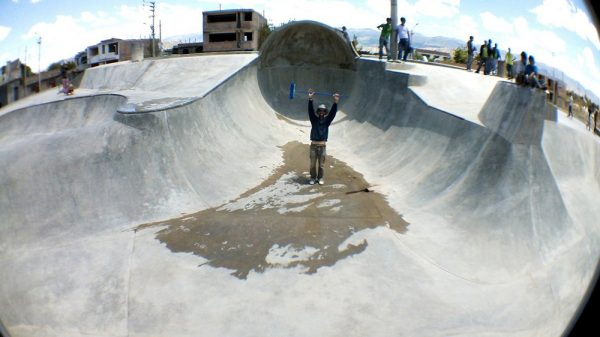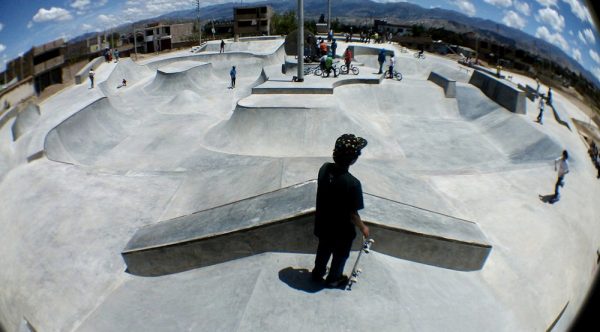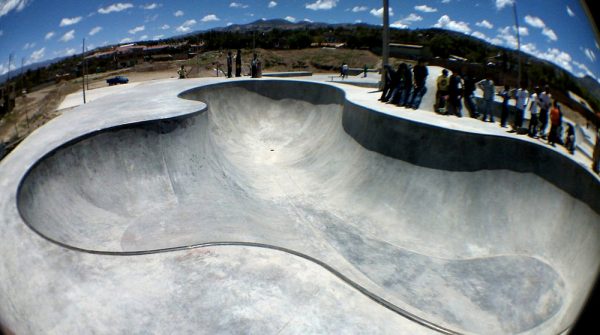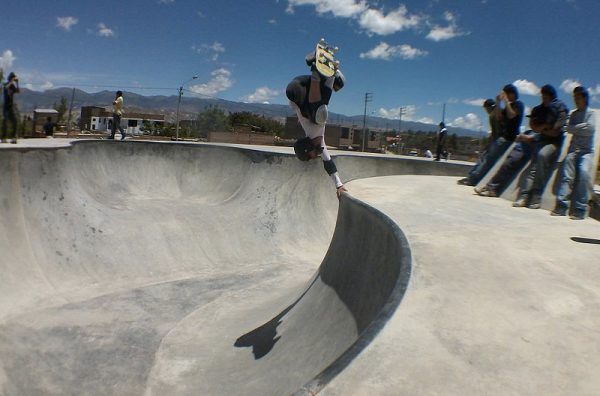 Thanks to, merci, gracias a Peter Henningsen Viale por las fotos.
(Peter took the photos of the completion of the park and the invert)