Our buddy Tadashi, over at KOBRAH Magazine just put out this video of a bunch of SF/Oakland bay area shredders as well as all your favorite California and NW gnar dogs hitting up DIY spots, Wastelands, ramps, ditches , the streets, a vert ramp, skateparks, and some pools. Full parts from Iceman, Jack Given, Dereck Elmendorf, and Cody McEntire, and about 100 other skaters, such as Emmanuel Guzman, Patrick Melcher, Caballero, Skreetch, Adam Benson, Al Partanen, FFEJ, Frank Faria, Ben Hatchell, Dan Drehobl, Cody Lockwood, Ray Barbee and Raven Tershy. Super good filming which isn't surprising as Tadashi is a photographer first, a videographer second, and unbelievable high quality for a video on the internet. Blah blah blah, check it out:
Loading the player …
The real life world premier was last night in San Francisco… The cyber premier is TODAY, here and now! (hacked from Slapmagazine.com for your, loyal Confusion website viewers, pleasure!) And while we're giving out free plugs to Kobrah, and Slap, let's throw in another one. Check out Tadashi's cover shot over at Transworld Skateboarding:
And here was the premier flyer, but you missed it, and you don't live in San Francisco, or probably not even California for that matter: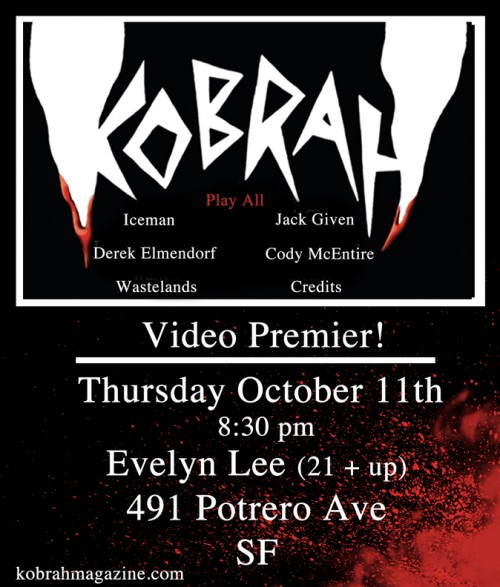 Are we missing any one here, oh yeah, better check out LOWCARD, Tadashi probably has something rad going on over there too. If we still have any "readers" left that didn't click away on any of the above magazine links, check back soon, we're gonna have some real shitty videos and photos coming up any day now…. like tomorrow.