Ever wait for a crew to finish work on a skatepark and end up a bit dissappointed and thinking "if only…."? That's the way Tony Chavez and Jerry Burke felt about a certain feature when the addition to the Ballina Skatepark was completed (almost doubling the skateable area of the park), installing a rippable bowl and big banked area with one major flaw. The barrier at the top of the bank seemed to have been just dropped in place with a gap between its base and the bank requiring an ollie to hit it, obviously limiting the possibilities of a barrier. These two quickly took matters into their own hands, quickcreting over the gap. This permitted some additional shredding which previously was impossible.
Still feeling that there could be more potential to this obstacle, a decision was made to improve upon the first "fix the skatepark" barrier effort. Since Jerry was out with a broken collarbone, Tony recruited me to help finish the project. 4 bags of quicksetting concrete and a few days later, this obstacle was shredded like never before, proving that sometimes taking matters into your own hands and fixing the little flaws of your local skatepark can be very rewarding. Here is a first look at the results of these guys DIYing at their local skatepark.
Photos/Video/Text: Roadie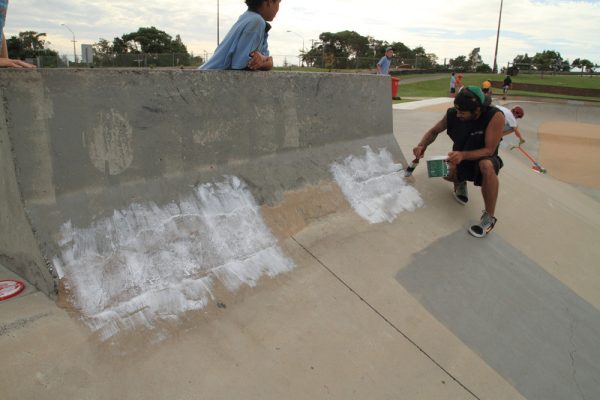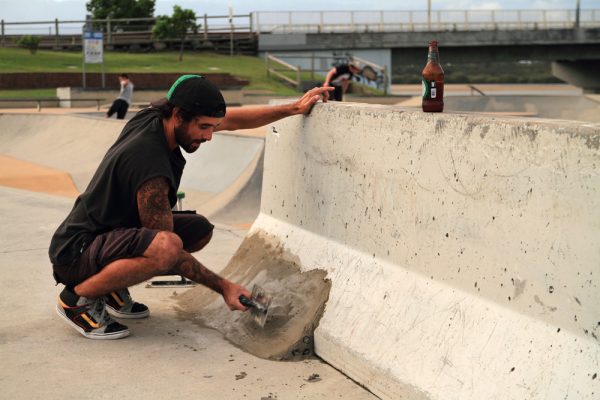 The "Ballina Barrier Barge 'n BBQ" will be on Thursday evening, MARCH 31st, around 4pm at the Ballina Skatepark going 'til it's too dark to see or the generator runs outta fuel.
From Tony Chavez about the skate jam/bbq:
"this thursday, 31st o' march. 4 p.m. ballina skatepark: Ballina Barrier Barge & BBQ!!! we'll be snapping pics & filming for international diy skatemag 'confusion'. sorry for those who haven't had a chance to see the mag or website yet, i've been lazy, it's sick, you'll love it. just received a pack of the printed version the other day. i'll bring em down, come get one! there's goin to be some kind of prizes involved in this along the lines of, or possibly including: slab of beer, gear from Truckstop skateshop, bottle of turkey, free beule & confusion t-shirts, stickers, blah. blah. blah. some beer & snags provided! prob start the bash round 5 or 5:30. go til the last person standing… come down shred, drink a beer, and say hello."
(in case of rain, the event will be postponed until Saturday.
Ballina Skatepark: After the Fix of the Barrier