"After the fullpipe and wave ramp, Ben made a new organic furniture set in his living room."  (short version… for long version, scroll to the bottom).
Words + photos: Sergej Vutuc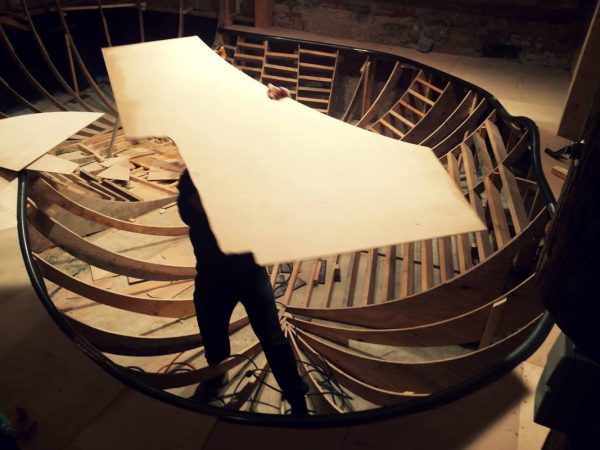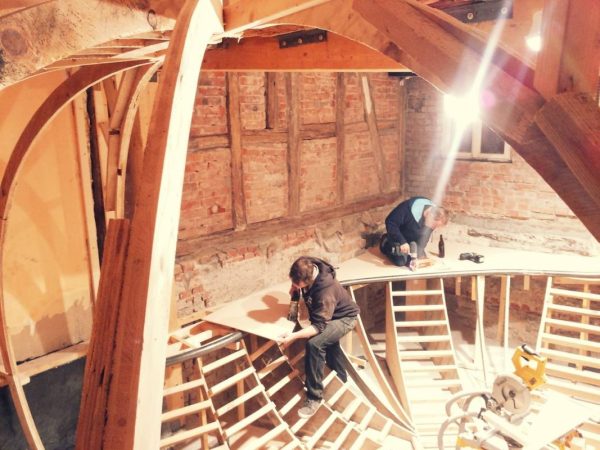 Opening party!
Saturday, 21st of November. A few weeks ago I booked a bus ticket from berlin – heilbronn. A few months passed since I was standing with Ben in the house and was painting his new powder board models to help him to get money for his bowl. After several projects in his backyard and challenging himself with building and skating he had a vision of a bowl with a cradle in his house. He likes to say that project exhibition "psychedelic scribble" was inspiration. He want to build something fine special for his living room.
And get the chance to go from one object to other….
Skating the fullpipe or wave ramp between pizza oven is a different challenge and since our last full pipe session the neighbors got mad. As usual there must be something complicated.
This time Ben could only work till 22:00, working with loud machines and making strange neighbors annoyed about what's going on in the house – first tearing down one part of the old house, taking the walls down and building new structures, new open space for new wood. The secret was growing… I left Höslinsülz with the fixed date of November 21st to return. From time to time I was showing friends what was going on when you have a dream wish. Saturday 4:50 my alarm was ringing and was time to hit the bike and take my bag and run to the bus to go six and a half hours – the road to get to southern german hills in a small village. Around noon I arrived, already friends and crews were there from different parts of Switzerland,  under the effect of this magazine. As usual, the village has brought together different generations and backgrounds, home burned schnapps with long tradition of Pogo, hand making with pizza creations turned into a magic night with one of the biggest noise improvisation sessions where the crowd would use everything that was around to be the power of noise."  – Sergej Vutuc