Skaters are just naturally creative. Every time we step on a board we are creating something by pushing and doing a trick. We see the world differently than the rest of the world. We see objects in the street and think, "damn, I need to skate that"! So it's just makes sense that many skaters have picked up an instrument and formed bands. We need to express our artistic and creative nature through these avenues. "Switch Blades and Urethane" fest is just an extension of that unison between skaters and music.
The First Annual (or maybe even twice a year) "Switchblades and Urethane Festival" was put together by Mike Vallely, who has always had a strong presence in the skateboarding and music scene. He has always been pure at heart and maintained the DIY spirit in everything he does. The festival wanted to bring together skateboarding and "punk rock" music and stay true to that spirit.
Held at Alex's Bar (famous punk rock bar) in Long Beach, Ca. "SBAU" had vendors from Dogtown Skates, Street Plant, to Confusion Magazine, Hoax MFG and several more. Pizza Nista (Salman Agah's Pie Joint) kept the crowd full with pizza. The parking lot held all the vendors and across the street there was an abandoned restaurant parking lot where skaters gathered to skate the flat. The dark clouds loomed overhead as Andrew Jimenez (Confusion Videographer) and myself skated back from the store with a 12 pack. As I was pushing the handle tore and the cans went crashing onto the ground and rolling into the street. One can opened, spraying a parked car. "Quick, slam that one back, Andrew". Waste not, want not, right? As we made it back to the parking lot the clouds had really started to darken up. Shortly after it began to rain, forcing everyone inside, which was just fine, because that is where the music was happening anyway.
As the rest of the soaked skate punks stumbled in from the rain, music from Skatanic Rednecks greeted them. Hailing from Orange County (although they must be from Texas, with a Texas flag carpet laid before the stage). Little ponies were placed on the stage and the Cowboy Punk was alive and kickin'. Boot shaped Piñatas and rocking horse molestation went down. Great band to set the tone.
Next up was Power Flex 5 featuring legendary Salba and Tattoo artist Corey Miller on drums. This was my first time seeing them live. Their music isn't quite surf, but its somewhere there close testing the waters. Salba plays with a pearl steel guitar and although I don't know shit about guitars, you could tell this would be a prized possession for any guitarist. I was truly transfixed by their music. Their bassist provided great energy and the music felt like a snake charmer was playing and I was the snake. And it wouldn't be a Salba set without the Salba pre pool sesh stretch while he was playing.
Orange County punks the Pushers played next. Believe they were formed in 1997 from the ashes of local favorites the Grabbers. They kept the energy high with their Orange County Infused Skate Punk Rock style.
Revolution Mother was up next. Mike V. fronts this band along with Jason Hampton (Guitar / Vocals) Colin Buis (Bass) Brandon Pertzborn / Jarrod Alexander (Drums). I was a Revolution Mother virgin prior to this. Mike V. approached the mic and instantly urged the crowd to "Take 2 steps forward". After all this time people still stand away from the stage. The evolution of concerts should be that you get close to the stage as possible. But as soon as the first guitar cord was struck, the crowd became one and there was no gap in-between. Their blend of punk, hardcore and grit are fueled with high power energy from Mike V. on vocals. Their energy reminds me of Zeke mixed with Black Flag. They even did a cover or two of Black Flag. I had to put my camera down after they started playing "6 Pack". Rocking blue jean jackets Mother Revolution are like a Biker Gang turned skate rock band. Truly energetic and awesome live!
McRad led by the Chuck Treece, if you don't know, then yer slippin'…big time. Their style is their own, but if I had to compare I would suggest Fish Bone and Jawbreaker. They have a stylish flow, with subtle raw energy that comes off mellow, but the music is intense. It was a pleasure to skate by Chuck as I was exiting the skate park down the street before the show. He has an aurora about him that is pure style. Legends were all around.
Speaking of Legends, Duane Peters band Gun Fight was up next. By this time the place was packed and the energy was at full tilt. Good vibes and beer were all around. Duane stumbled onto stage and you could feel the energy from the crowd set to explode. With Harmonica in hand Duane began the show. The crowd began to move and shake and I finally had to put my camera down when they started to play U.S. Bombs songs (Please get back together for good). "U.S. of Hate" got me pumping my fist along side everyone one else in the crowd. Their Guitarist, with Waldo shaped glasses, striped shirt and curled Mustache, rocked it, providing animation and energy that just added fuel to the already blazing band. Everyone in the band brought great energy and really ended the night with a bang.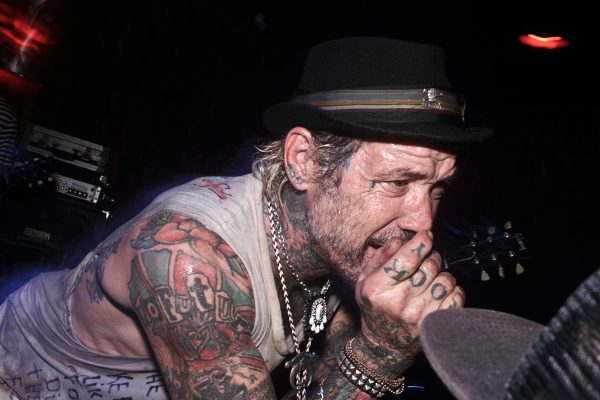 All the bands killed it! Great energy! Great People! We are glad this event was put on. Merging punk/rock music and skateboarding is not a new idea for a festival, but keeping it pure and raw is something that is missing with these over priced hype events out there. We urge Mike V. and all the sponsors to do it again soon. And maybe add some skate stuff close by to skate. Switchblades and Urethane spirit is what is all about. Pure Energy. Pure Fun.
Thanks to all the sponsors: Street Plant, Dog Town Skates, Pure Fun, The Hub, Pizza Nista and of course Confusion Magazine.
Words and photos by Kasper
Video by Andrew Jimenez