Article by Wolfgang Toth
Photos by Fred Ferand

Italy the Land of dreams?
"For my first holiday in Italy, they needed a long time to get me to go, because, you know, Mafia and all that stuff. But on the streets it's like everywhere and I'm lucky to have been there. Since then I have fallen in love with this country. Also, a long time ago I skated a contest there. There was a half pipe right on the beach and a street contest too. Ha, I think it was my only serious street contest ever. I was the only foreigner with all these super friendly Italians and it was great!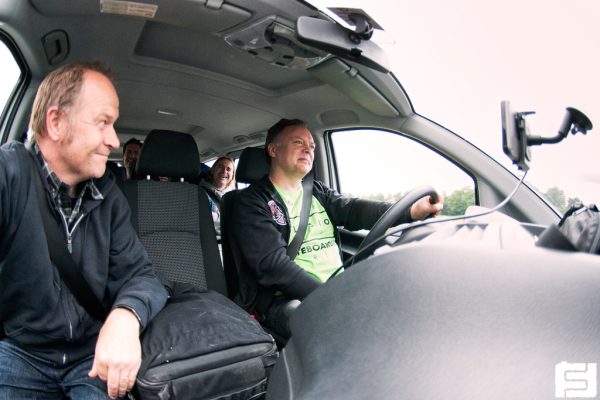 And close to this countryside where the contest was, there is since the last three years a pool. And since then, I thought let's go, and you know if a man says he will do it, he will do it however long it takes, but he will do it! And here is the team: Fred (our International part from France and the Master Photographer), Axel (from Trier the oldest town in Germany established by Romans over 2,000 years ago), Toni (our ½ German with an Italian passport and all time translator), Dietsches (Mr. OMSA) and me (the organizer + Wolfgangster). The OMSA Team on a mission – grinding down the pools in Italy.
Starting in Milano meeting Alessandro Redaelli with Roberta and friends who made the Ottone Pool in Lodi, possible. And we all really liked this rough baby. A whole lot of grinding and fun!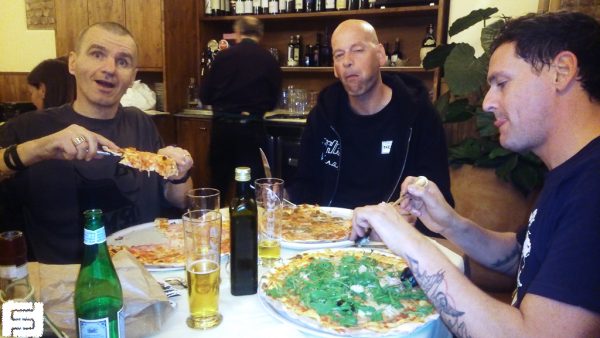 Then back to the Milano Legend the "Bastard Bowl".
Max Bonassi and Claudio Bernardini did such a great job to make this beauty happen. And these two guys ripped down their bowl. A big session was on, never ending fun; mega high speed runs and tricks were exploding. Skating til the muscles stopped moving. Wow, I nearly don't remember such an epic session.

Next stop at Daniele Lamanna's place. The "Whidaw ramp", a really new generation playground. Holy moly funny place. Specially hosted with the worlds best apple-pie from Daniele's dad Gino!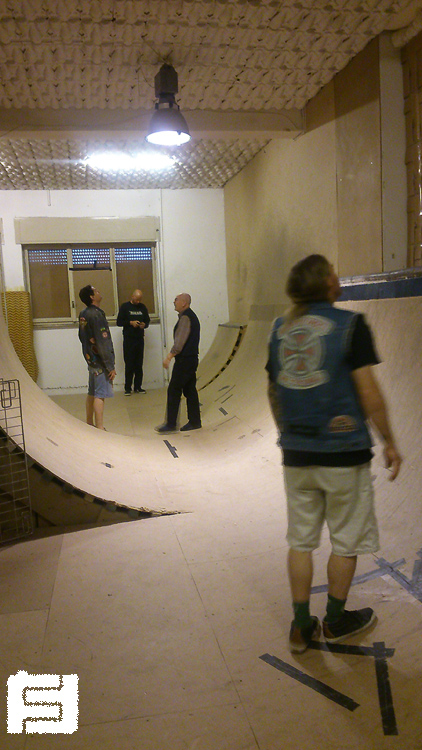 Next mission, Bologna, the Elbo Park. So do you know the song: "it never rains in California" I thought about it and used my umbrella.
But we will come back to survive the deep end there. (Happy I was there before and grinded it down, hehe.)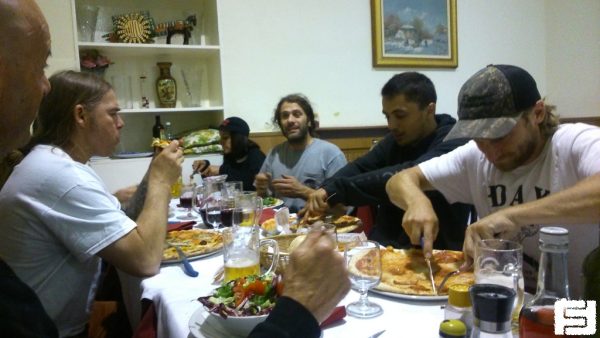 Good that there is an indoor sports park right around the corner. And our youngsters can play on the ramps!
So the next stop was even deeper south in Italy, and so much deeper were our feelings there. We all nearly got tears in our eyes as we skated the first time the Big Air Pool in Camerano. The owner Mario and the other locals welcomed us with so much friendliness and beer that the party was glorious! And to name a few: Alessandro Ferreri, Luca Crestani, Nicola Vitali and others showed us the lines. Oh my god – what a show and great party! And when Dietsches says this is the best indoor pool he knows, what more can you say?
So all who read to this point surely agree that skateboarding is our life. But all who think McDonald's or stuff like this are good, should better stop reading now.
So not for a small reason, our tour was called the "OMSA PIZZA Tour" and I tell you good Italian food, latte machiatto, espresso and vino is a great reason to live too! And that's why it's that good in Italy. Madonna – I tell you, lunch and dinner is a celebration there. And I love it. Go there, surprise yourself, and maybe you want to stay there forever.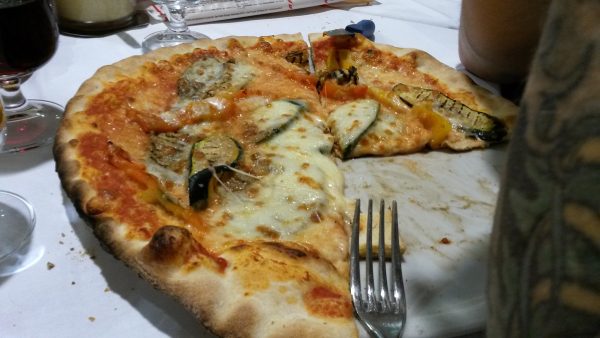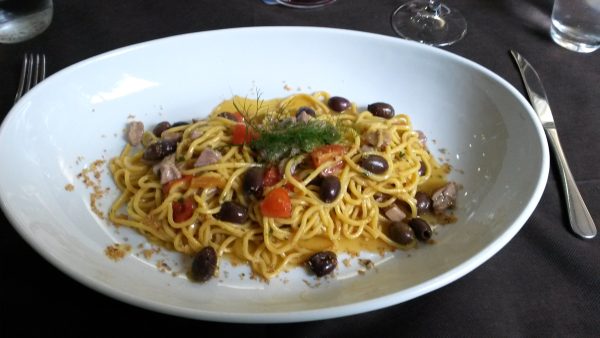 Bela Italia I'm coming back!
Grind it down, always."  – Wolfgangster
OMSA PIZZA TOUR – the video

Filmed/edited by Dietsches