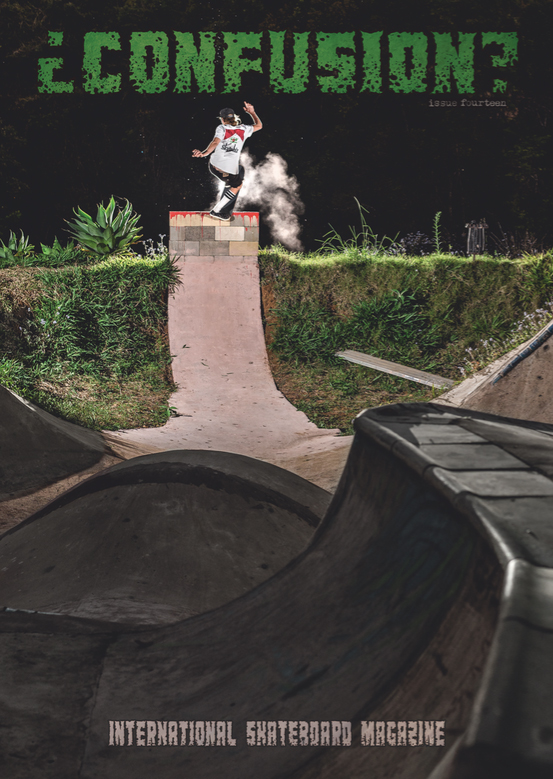 Click here to buy a single issue of Confusion issue #14.
Click here to SUBSCRIBE! (cheaper than buying each issue separately)
Or buy Confusion from your LOCAL SKATE SHOP!
Skater interviews include:
Kevin Kowalski (USA)
David Sanchez (Spain)
Josh Kotlega (Australia)
David "Conni" Conrads (Germany)
DIY Spots & Backyard bowls:
Spotter DIY (Spain)
Carcassonne DIY (France)
Mashers DIY (Belgium)
Features:
OMSA Tour Portugal
Addis Park in Ethiopia
Girls Skate Tour India
M&M Pool France
and as usual, much more interesting and rad stuff…..
One year subscription / 3 issues of Confusion costs €20 or $22.50 for any location in the world (including shipping).
To pay by bank transfer send money to:
Confusion Magazine
BLZ: 37050198
Kontonummer: 1930637911
In USA, if you don't have PAYPAL you can also pay by check (made out to Confusion magazine), money order, or cash: Confusion Magazine, PO Box 1024, Santa Cruz, CA 95061, USA
SKATE SHOPS CAN BUY A SUBSCRIPTION HERE.
Anything else CONFUSION related (mags, tees, hoodies, hats, crew necks, stickers, etc.) you want to buy, you can get here.
For any questions, inquiries, or comments email: info@confusionmagazine.com
Follow us @confusionmagazine