Leopold-Hoesch-Museum & Papiermuseum Düren
Opening: December 4th, 2011 – 12 noon.
Sergej Vutuc, the photographer behind the book, "Something in Between" put up work in an empty space and made abstract drawings from skateboarding.

Video: Flo Schneider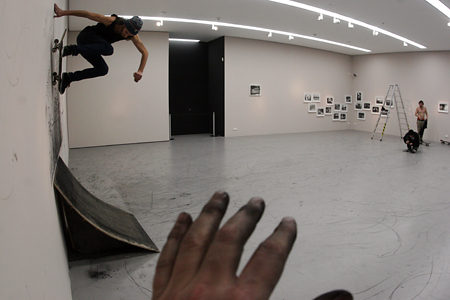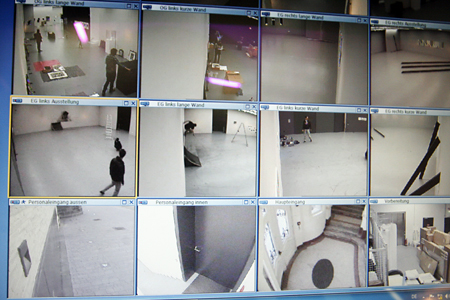 4th December 2011 – 19th February 2012
Leopold-Hoesch Museum, Düren & Paper Museum
Opening December 4th, 2011, 12 clock
Sergei Vutuc. Something in Between
With Sergei Vutuc (born in 1979 in Doboj, Bosnia and Herzegovina) art show at the Leopold-Hoesch Museum & Paper Museum Düren, one of the most versatile mediators of Street Art. As a punk musician, skateboarder and photographer, he takes an active part in their production – as a gallery and publisher of zines, he acts as a passionate multiplier. Under the title "Something in Between", he now combines his photographic work with performance and sculptural elements. In preparation for this, Sergej sets the scene in the museum by riding on the walls with a skateboard, creating lines of abstract drawings. He brings the ramp that he used for this purpose as one element in the sculptural installation.
Beginning with Vutuc's preferred mode of transportation – skateboarding – this urban phenomena and social interaction is the center of his photographic work, therefore he states that showing this same fast-paced action in photographic sequences is unexciting. His works often has traces of manipulation when during the exposure process in spontaneous emotional states, places garbage on his film exposures discreetly fitting into what is happening in the picture. Vutuc aims his camera on everyday happenings in public spaces.
An exhibition catalog in German and English is available through Snoeck Verlag.
Dialogue across borders. The collection of giant Alex Mueller, Cassiopeia and Alberich Imre Kocsis from Schoeller Hubertus Foundation.
Editions Museum Association Düren 2011
Leopold-Hoesch Museum, Düren & Paper Museum
Hoesch 1 | 52349 Düren | www.leopoldhoeschmuseum.de
German Translation:
Sergej Vutuc. Something in Between
Mit Sergej Vutuc (*1979 in Doboj, Bosnien Herzegowina) zeigen das Leopold-Hoesch-Museum & Papiermuseum Düren einen der vielseitigsten Protagonisten wie Vermittler der Street Art: Als Punk-Musiker, Skateboarder und Fotograf nimmt er regen Anteil an ihrer Produktion – als Galerist und Herausgeber von Zines agiert er leidenschaftlich als ihr Multiplikator. Unter dem Titel "Something in Between" kombiniert er nun sein fotografisches Werk mit performativen und skulpturalen Elementen. Hierfür präpariert Vutuc zunächst den altehrwürdigen Museumsbau, indem er dessen Wände mit einem Skateboard befährt, wodurch diese zu unmittelbaren Trägern abstrakter Zeichnungen avancieren. Später bringt er die zu diesem Zwecke gebrauchte Rampe als modifiziertes bildhauerisches Moment in die Installation ein.
Ausgehend von Vutucs bevorzugter Fortbewegungsart, dem Skateboarden, stehen urbane Phänomene und soziale Interaktionen im Zentrum seiner fotografischen Arbeiten, die daher gleichermaßen temporeiche wie unaufgeregte Sequenzen zeigen. Häufig weisen sie Spuren der Manipulation auf, wenn Vutuc während des Belichtungsprozesses spontane Gemütszustände hineinkratzt oder Zeugnisse des allgegenwärtigen Wohlstandsmülls dezent ins Bildgeschehen einfügt. Indem Vutuc seine Kamera auf das alltägliche Geschehen im öffentlichen Raum richtet, erwächst er ebenso zu dessen Chronisten.
Zur Ausstellung erscheint ein Katalog in Deutsch und Englisch im Snoeck Verlag, Köln.
Dialog über Grenzen. Die Sammlung Riese
Alex Müller, Cassiopeia und der Alberich
Imre Kocsis aus der Hubertus Schoeller Stiftung
Jahresgaben Museumsverein Düren 2011
Leopold-Hoesch-Museum & Papiermuseum Düren
Hoeschplatz 1 | 52349 Düren | www.leopoldhoeschmuseum.de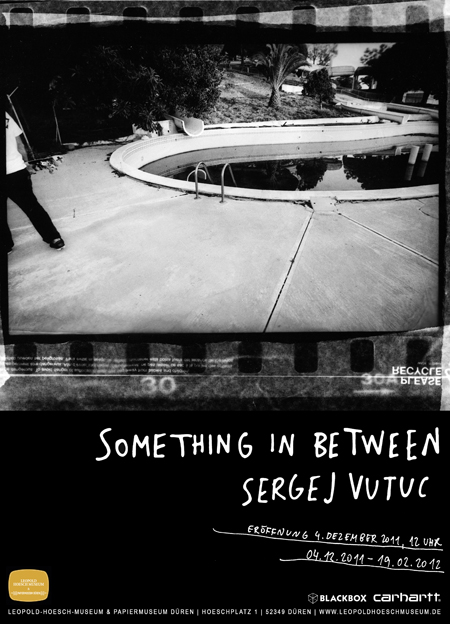 Check out an interview Confusion Magazine made with Sergej Vutuc from back in January, 2010.