"It was early August and Wonderland's 17th birthday was coming up on September 26th. We wanted to build more on the path along Wonderland and after seeing a bunch of fox trails, we wanted to have one all the way around Wonderland. Imagining and dreaming, we spoke about a full pipe (thinking they can't be so expensive those used for draining), so I called our sewer guy.
Me: How much is a drain pipe 3m radius and maybe 7 meters long? Sewer guy: €20,000 and that's without a crane to lift it in and it will weight 45 tons. Me andthe rest of the dreaming team: Hmmmmm ok, forget about it.
The morning after standing and sweeping during opening the store, a guy comes walking / dragging a trolley with a railing from a spiral staircase, that he was about to throw out. (Wonderland is next door to Christiania's trash / recycling square – always a fun place to find daily treasures).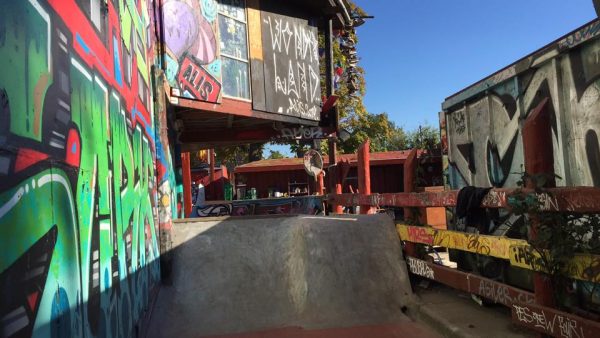 I said, wait let me help you unload that, and then while taking it off the trolley Joey Martin aka @joey65pack on a layover on his way to Austria comes walking in. Me: Hey, you think that this could fit in for a loop? Joey Martin: Hell Yeahhh!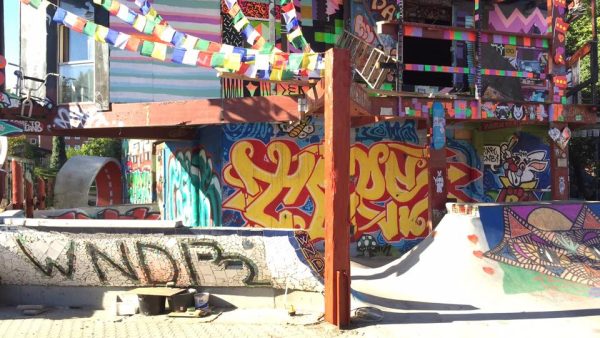 And before we could finish a joint, we were on it, to fit it in on the alleyway alongside Wonderland. Quickly we were joined by Carl (original carpenter from the days of Wonderland's birth), wood was being collected from the scrapyard and some bought, and the wood structure began to take shape. Before I knew it more fresh dudes joined us plus Sonny from Wonder Concrete, and the spirit from '98 from when we built Wonderland was instant.
We moved the loop a couple of times and a lot of smoke and beers were consumed while considering its placement. The Wonderbar was open daily and from that we sold and drank a lot of beers to finance the project. Knocking down some of the previous build had to be done, and a smooth conversation with the scrapyard for taking an extra bit of their entrance – just so that enough speed could be generated for the loop. 'You can't go any further this way' we were told, so a fill free quarter / corner came as a solution.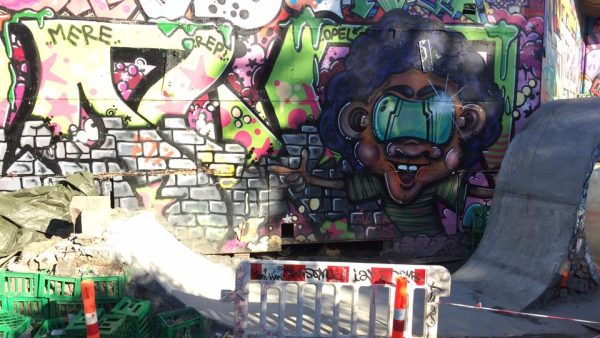 I was lucky to find some see-through stones and they had to go into the fill free. Jannik and I made a windmill out of a bicycle wheel earlier this year, a drain pipe and other fun stuff, and our idea was to lead the LED light under the glass stones. First pour of cement went smoothly and the bottom of the loop and fill free quarter / corner were standing proudly. Now we were only one week from Wonderland's birthday party and wanted it be finished and ready for inauguration – the pressure was on! Thursday morning came and at 7AM the D.I.Y. army was ready for the last pour – two days from the birthday party … Smoke, beers and music made it another beautiful pour. Forms were taking off and our dream had been fulfilled. Happy Birthday Wonderland, all thanks to the beautiful souls understanding our vision and that 'You are never to old to have a happy childhood'."
Words by Albert Nielsen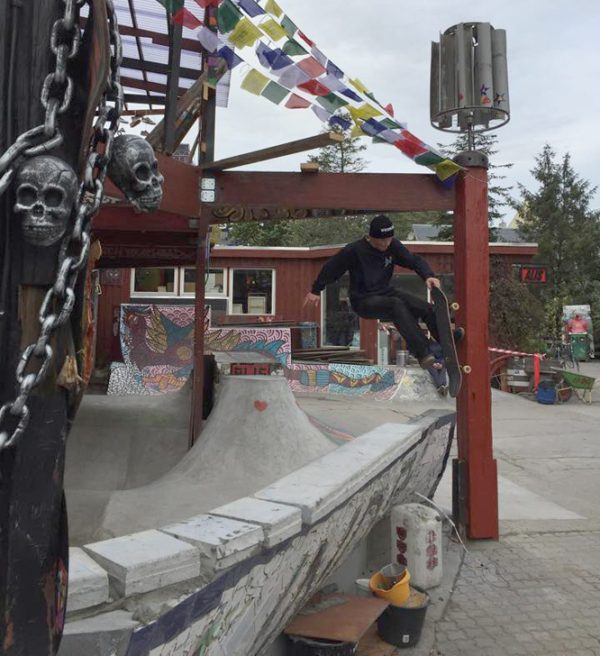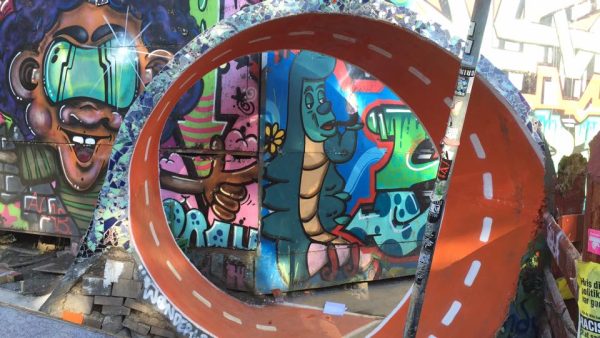 #wndrloop