Words and Photos by Jerry
Video by Totti
First of all, it's an honor to represent
Uruguay's skate culture
in an international skateboarding magazine. Carrasco is a part of Uruguay's Capital, Montevideo located on the outside of the city. In this place is where
Conape DIY
is located. We began skating there when we were young, around 2011. The octagon was a fountain with a monument in the middle, many years ago. Nobody knows how it ended up being a concrete space. We started using it as a flat ground spot and brought flat rails sometimes. We left them there and every once in a while they disappeared and we had to bring a new one. From one day to another, someone I don't know, brought two iron sheet quarter pipes which we used very much.
One of the quarters broke so today there is only one left. The first obstacle we built was a ledge next to the wall. This first try was a fail since the 'Intendencia' came by the next day and tore it down. The second try worked out great and ended up being our only obstacle for a long time. The ledge is still standing today as if it was his first grind-day. Sometime after this we decided to build a flat rail. With the help of Nano Carballo (one of the big forerunners of Conape) who ordered to forge a flat rail from a known blacksmith, we went to the plaza around midnight with a flowerpot and a couple of Santa Teresa wines and dug some deep holes to fit the rail, which wasn't an easy job at all to be honest. The next day we went early in the morning mixed some concrete and finished up the flat rail which until today is one of the most emblematic spots of Carrasco.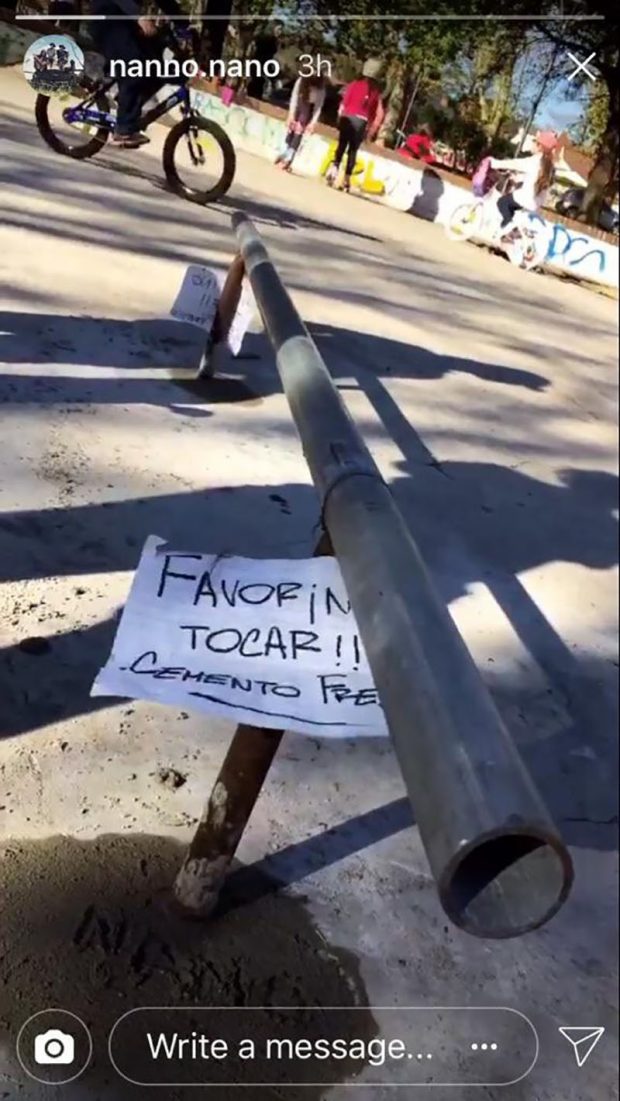 From there it continued developing. The next obstacle with the help of Thomy Hughes, Geks, Charly and some others who always hang around was a concrete quarter pipe which turned out very well for the little construction skills and experience we had.
From that point on the plaza started to receive visits from skaters all over Montevideo and became a popular meeting point for the scene. The last obstacle we built was a manual pad. The locals came together at 9am on a Sunday, in between we grilled an asado at Conape and around 4pm the pad was finished. Not too long ago, after years of trying, we also obtained the financial participation from the municipality who constructed a skatepark with a nice little bowl some stairs and ledges right next to Conape which unfortunately made us forget a little bit about the spot.
New year, new us. Our plans for this coming year are to add some new obstacles and repair the existing ones trying to leave it as beautiful as it deserves to be.
Saludos desde Carrasco, Uruguay