This skatepark is shit, literally!
In the highly specialized field of skatepark archeology, the stream of inspiring discoveries flows without an ebb. It goes without saying that the unrelenting efforts of skatepark archeologists, highly qualified specialists in their own right, confirm the omnipotent mantra that conceives the inconceivable, manages the unmanageable and constructs the unconstructable: "It is right as long as it belong to skateboarders (not the cities)". Just in case anyone needed a reminder, here are the great finds in recent times:

The dinosaur by Dreamland and Grindline (in the States) remains a landmark in skateability and has been honored with a timely makeover,
The mummy discovered by Dr. Skatepark in Lima (Peru),
The skull of smiling Pedro exhumed by Concrete Flow in Chelles (France),… all bear testimony to the generous excrements of a prehistoric colossus consigned to millennia of mystery before being unearthed by the skatepark diggers of our times.
But the find of the 21st century has to be the recent discovery in the Jurassic cradle of Haute Savoie in France. Our archeological aces have uncovered the jaws of a species unknown to mankind: a mountain devouring dinosaur that left behind a skatepark each time it took a dump.
Notwithstanding the species, we found the upper jaw, on the site of the best projects that this region ever will see, and according to experts (self-proclaimed as such) that we consulted immediately, it would be a relatively young dinosaur, given its size, but given the pronounced wear of its teeth, clearly visible in the photographs, a voracious and quite frankly, innovative specimen!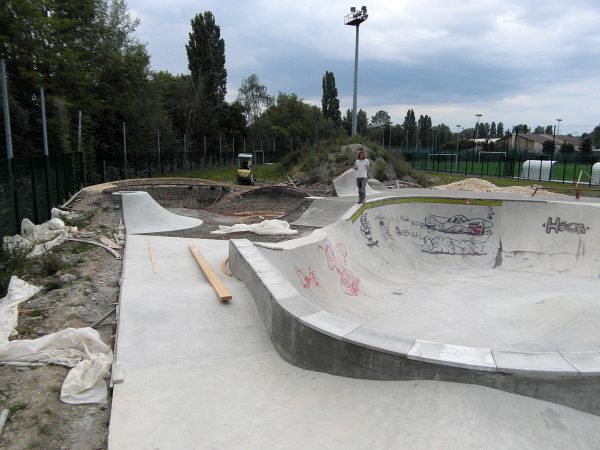 For years, we have had our own theory on the formation of cliffs in the region; unlike the alcohol infested, depraved minds of proponents of theories of water and wind erosion, we, true experts of the phenomenon, have always maintained that nature's mystery is nothing other than the work of the mountain eating, skatepark excreting vertebrate!
And we now have irrefutable proof: in a last spasm of agony stricken self-relief, the huge vertebrate (VLG, 'Vertebre Le Grand' in French) released a shitload of concrete forms that would astound the world for the next hundred million years!
We have lovingly restored this Jurassic wonder at VLG, Ville La Grand (now we know where the name comes from!). Skaters from around the world will come and gape in awe at this unique marvel of pre-history. Working our way up, employing the latest DNA techniques, we have reconstituted the muscle, flesh and skin to embellish the mystique with lines and curves which skaters will carve in their quest for infinity.
Skate the shit out of VLG!
Words + photos: Mike Van der Ouderaa
Check out more prehistorical concrete creations at concreteflow.com
Update: June 15th, 2014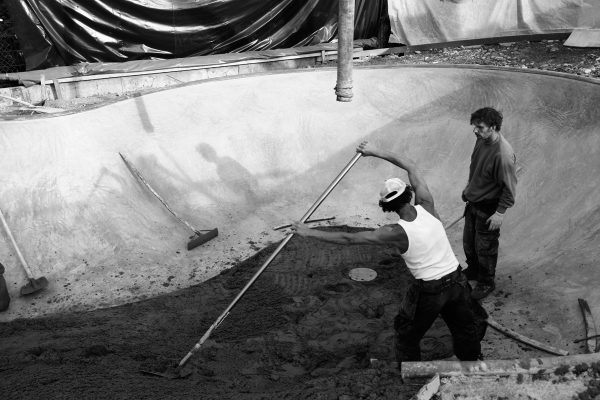 Update: June 17th, 2014 – Park finished + first sessions by the crew