In our second edition of Confusion's HOT SHIT web exclusive, we ask ten questions to Bacon Skateboards concrete killer Thomas Nichols who has Portland blood and raised in Vancouver, Washington. I had interviewers block so to flow some ideas I looked up "famous porn star interview" on the internet and  modified the questions for skateboarding… I don't think Thomas realized the interview questions were a joke and it wasn't planned as the real interview, but everything doesn't have to be taken so seriously in life, so we're rolling with it anyways. It's only skateboarding, right?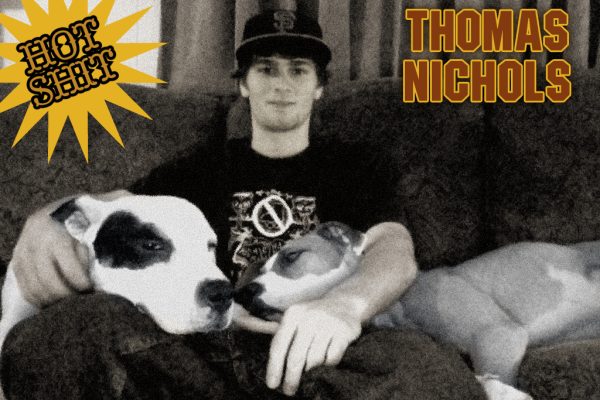 What's the most stupid pick up line you have ever received?
"I'll message you on Facebook later"- my current girlfriend.
Who are your favorite skateboard model(s) to shoot with?
Skateboard model? I like fish tails if that's what you mean.
What's on your iPod?
Wu-Tang, Digable Planets, Annihilation Time, A Tribe Calle Quest, FDSH, Ultramagnetic Mc's, Kool Keith, 13th floor elevators, DRI, Trash Talk, Atmosphere, Slayer, Barrington Levy, Curtis Mayfield, Otis Redding, Scientist. Pretty much everything imaginable..
What photo shoot is Thomas Nichols most famous for?
No fame. I'm a nobody, haha.
What kind of lingerie do you think is the hottest?
Fuck the lingerie, where's the skin?
When you became a world famous skateboarding star were all your friends instantly crazy jealous?
Well, since I have no friends and my dad is Rambo that should answer your question.
Is there anything you hate about keeping up your Thomas Nichols twitter?
Fuck your twitter.
What should everyone look out for in the new year from Thomas Nichols?
Rare sightings most likely. Nothing major…
What are Thomas Nichols's favorite skate toys?
Skate toys? What?….
What is making Thomas Nichols's signature Bacon skateboards deck so hugely successful?
An older group of skateboarders who still like the shape? I don't know just glad everyone liked it, thanks to Colin Sharp and Mike Egbert from Unheard Distribution for making it happen! I'd also like to thank Howard, Paul, Chris and Tyler at Cal Skate.
(Interview questions stolen and modified from an interview with a porn star.)
https://vimeo.com/17482973
https://vimeo.com/54996635
https://vimeo.com/34002385