Sergej Vutuc is an integral part of the european art, skate and DIY scene. He is a photographer, artist, zine maker & collaborator who has also spent time acting, playing guitar, and running his own music distribution. Born in Bosnia and later moving to Croatia, Sergej is currently living in Germany and continues to work on various film & art projects in the Balkans.
I first met Sergej at the Skateboard Museum in Stuttgart where he had on display a handmade skateboard photo book using a piece of a skateboard as the wooden cover! A year later we randomly crossed paths in the streets of Hamburg at a café and met up later in the day to check out Matt Grabowski's latest concrete skate project behind the punk squat Rote Flora.
On my way down to Zürich, Switzerland, Sergej suddenly phoned me when I was just 20 minutes away from the town where he runs his own art gallery called Basementized-kunst-cellar in Heilbronn, Germany. I took him up on his invitation to take a break from the road, have an espresso and check out his latest projects.
What is the concept / history around Basementizid?
You know, when you see your town and you need something, you must do something to make or to build your dream, not wait….and with some punk and DIY background everything is more easy. First I started looking at empty places in town for art projects, but people were closed-minded. Except for one social center, nobody was open for something like that so I took that place made 3 exhibitions with skaters and people from town. Then I went to usa, came back and thought about making an artspace. My first idea was to take an apartment and make it in the kitchen or….then guys from a local "so called" skateshop gave me space in their basement and possibility to build.
Basementizid. So I started with a new project working on decentralising art from big cities and bringing artists to this small industrial town in germany. In the beginning every month was a new exhibition, but slowly there would be too much and it would start to be more like runnnning to set a new show and no time for myself…so I changed to 2 months rhythms. Last year I left the old place and took the new space alone, where we also make a small zine and art book – a liberty and self-made shop.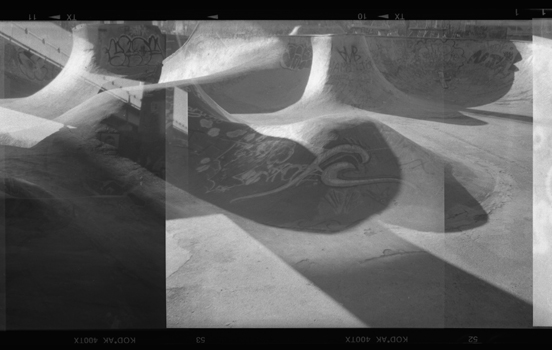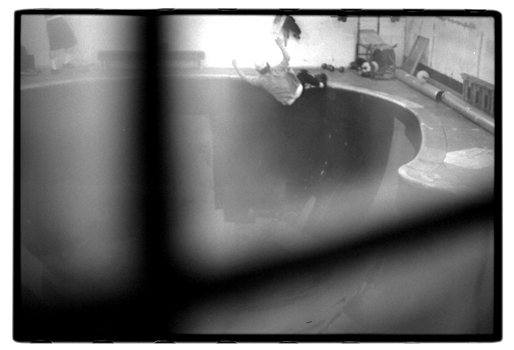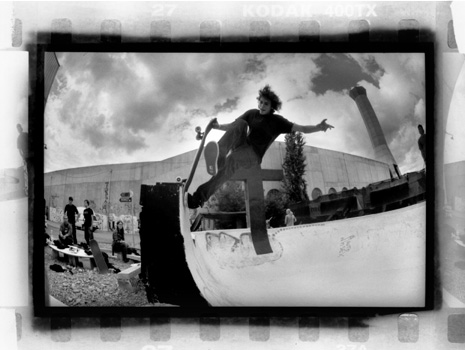 I know you are a man of many interests: photography, art, skateboarding….how do you see these interests coming together in your work?
My father was a photographer too and for the short time we spent together his influence has gone deep in my mind: red light in basement, with black and white photos… skateboarding  has been around me since I was 8-9 years old,  like guitar music, and all those things which are part of my art are a long time part of my life. Art as art….comes later…but I never saw it like "art" it was more you do and make things and you communicate with the world and people like you. In the time of my punk label and band we traded 7"s, tapes, & zines with people around the world, and with skateboarding it was the same. Art is nothing more or less than labels for a way of life: social categories, labels for expression….social labels.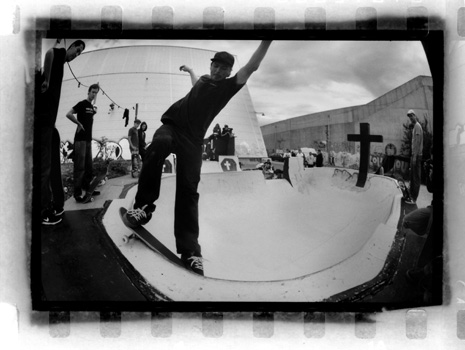 What projects are you currently working on?
At the moment I am trying to make more organization in my life and with my projects. How you say in the question before , there are many interests and sometimes I can not leave some of them on the side. I'm starting to make a column in Last Try Magazine and I'm starting with skaters to build a small factory park…and……….. I hope about the other things I can talk about when we are finished.
How did you end up in Heilbronn, Germany?
It happened…my mother lives here so I came in the past to visit her and work a little bit. Slowly life started to change. In the beginning I didn't want to stay here, but something happened around me and inside, so at the moment it is kind of my home.
How did the photo exhibition from ex-Concussion photographer Phil Jackson come about?
I think it was 2004. I went to Phily to visit FDR and met a zine-mail friend, JP from Balance zine, but on one rainy day I ended up with my skateboard in the car of a blond guy…he showed me some of his works for mental shop and some photos. And he left me a paper with his email and name – Phil Jackson…so we stayed in touch. The rest is just common sense…but I must say he is a great photographer. He uses analog technique also in color photography…his feeling for moments is unbelievable…Sometimes you have the feeling that you are in the photo, part of that moment. So it was for me a pleasure to make his exhibition at Basementizid. I also liked having his visit.
With the internet seemingly taking over the interest of the youth and even older dudes like us, why do you continue to make things in print when you can do it completely on the internet?
Hahahahha, no…it's feeling…its connection with your buddys…not only eyes over machine. I also like to make zines. I like the whole work, the whole process of communication in the copystore. Also the whole exchange; the moment when you get an easy letter and the creativity of every person involved with the paper and zine. It's not all about everything in the monitor format.
Who are you influences musically, artistically, and in skateboarding?
Everything….on some level, everything. All those things are about building your individuality and personality. It is not a matter of names, 'cause some of those people are like my neighbors and friends.
What do you see as the future of the German skate scene and how has it progressed since the 90's?
I don't know, its lots of copy of copy…Maybe it will one day be how my girlfriend says: copy of copy = original, but it is hard with too much influence on kids with tv and other media and on the other side you have Boardstein who died, a long time german skateboarding magazine. You still have Monster mag and sport skate photography and some zines here and there, but never like a strong community with that kind of background. When you're looking at how many photographers and companies exist,  you will think "great"….but I don't know. On the other side you see everywhere kids with basketball shoes, so I have a feeling that the scene doesn't progress. There are some more parks built by Minus and local dogs, but nothing more…maybe just statistics…numbers…who cares……..
What do you mean by "sport skate" photography?
I mean sport skate photography is without feeling. It is just documentation of perfection. 3 to 5 flashes, everything frozen; no feeling of skateboarding and lifestyle. No breath of moment, where it happened, why it happened. It's like just a sunset but nothing more. I think the other style people call "art".
What do you think of the revolution? Will it "not be televised" or will it be broadcast live on the internet?
If we're talking of a public revolution by state…then it's already on. Less and less news is on tv and less and less freedom is on internet…. So it could be that there would be nothing really on, on any of those places; only on special sites, under this and that link. They're setting new laws and they own the film industry and tv and they are political. People go into politics 'cause they are business guys, not to change the world to a better place.
What do you have to say to people that sit around and only consume rather than create? Or is this balance necessary?
Of course balance is necessary….but hey….people need to consume to feel good…it's only sad that they buy cheap stuff,  'cause they need more of that good feeling. And people who do stuff by themselves can not make the price so low.  So, think about it….or not.   – Sergej Vutuc
Check out more of Sergej's projects:
www.basementizid.com
www.sergejvutuc.com
plemplemkaufraum.wordpress.com
Also check out Oliver Schulze's artwork (featured above at Basementizid) at:
www.herrschulze.de