Arty Farty gallery in Cologne joined forces with Wasted Box Skateshop and belgium illustrator ELZO for a night of skate destruction and radical artwork. Wasted Box built the tight wooden ramp setup with a fair helping of vert. Elzo is a prolific poster artist who has created skateboard art for companies like Yama Skateboards and Carhartt and created hundreds of music posters. He uses a variety of techniques such as collages from replicated scientific drawings, psychedelic 60s concert poster art styles and his own demented imaginations otherwise trapped inside his warped mind, and the resulting output is stunning.
A few days before Elzo's opening, a pre-session went down with the likes of Impakt Skateboards' Jan Wermes, Tobi Hees, Aries Riepelsiep, and Minus' David Conrads. The video is more or less a fail with dark and blurry footage and mostly slams, sending Jan Wermes home battered, bruised and swollen suffering the agony of defeat. David Conrads had the trick of the session with a blunt kickflip to fakie, shown at the end of the video. It is what it is, you can't win them all.
Photos and video: J. Hay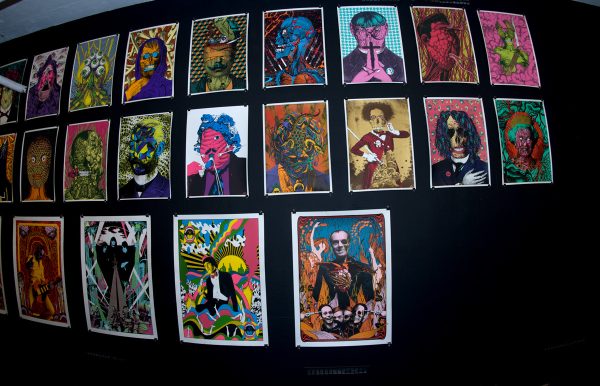 Elzo Durt is currently on a european tour with his exhibition called Amen.
More info about Elzo's tour and Elzo himself here.
More artwork from Elzo can be found here.
More photos from Arty Farty Gallery BLOG here and here.