When I was back in Santa Cruz in late September, I had a late night "top secret" call that the legendary Buena Vista pool was dug out again and was off limits until they were running a permission contest on the land, agreed by the owner because he heard he could make some money from this event, and then he would fill 'er in the next day – forever.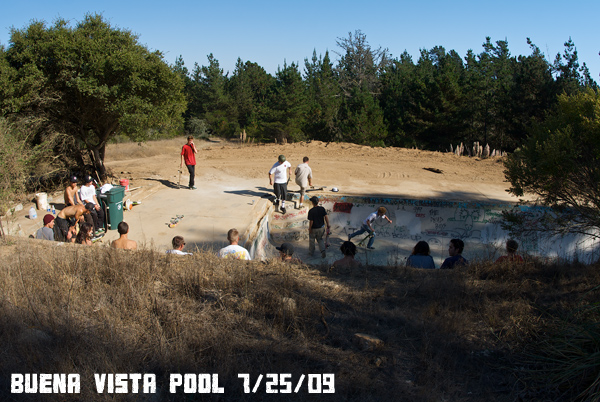 If the pool got blown out before the contest the following weekend the event would be OFF! So supposedly there were guys camping out, guarding the pool so no one would be skating. Nothing was further from the truth as I found out the next day when I showed up to no less than 15 guys skating the pool during the 3 hour session. There would be other blowout sessions daily with sightings of legendary pool skaters and every old school Santa Cruz skater whom all had a story I'm sure about Buena in decades past when they scored it the few days or weeks the pool had been dug out.
I have been lucky enough to experience 3 of these dig outs since 1991, and this last dig out, coinciding with my two weeks back in Santa Cruz was nothing less than chance. Unfortunately I only made it out there once during my Santa Cruz return, but at least I showed up during a heated session. This video and photos are from one 3 hour session, on September 25th, 2009. Video + photos featuring: OG Buena Skaters Jesse Gullings + Erol, a kid from Ben Lomond with the afro who's name I don't know, up and coming street/transition ripper Tommy Werner, and notorious pool/bowl shredder Josh Mattson.
Photos + Video by J.Hay
And then there was the contest….

Filmed/Edited by: Skim Shady