Serpent Eater released their new album "Hyena" at a punk rock bar in Cologne, Germany this last Saturday night, with grindcore legends Mörser from Bremen, Germany  and Blank (dark hardcore/crust – who also sounded good but unfortunately I didn't make it up to the front to take photos). Below are photos and two videos taken that night from Serpent Eater, and some photos of Mörser and information where you can discover more, listen and buy their albums.
Serpent Eater – "Last Cold Word"

Serpent Eater – "Leitmotif"

SERPENT EATER
Photos + Video: J. Hay
SERPENT EATER, based out of Cologne, Germany, has been plodding forward with its current lineup since early 2012. With members hailing from HAMMERHEAD (Ger), TUMULT (Ger), DASKRILL (Ger) and THROATS (UK), SERPENT EATER has been well rooted in the DIY Hardcore Punk scene for ages. Living on anger, SERPENT EATER is fueled, not dispirited, by life's experiences and struggles. As such, the lyrical concepts employed in their work mainly focus on the weirdness and deformations of the psyche as well as the emotions of a violated mankind in modern society.
SERPENT EATER creates its signature dark sound to emphasize this lyrical approach by mixing elements of death and black metal to (post) hardcore, crust, heavy and dark 70s rock, and doom to create sludgy, heavy and somber atmospheres of despair and hopelessness infused with moments of calm, sadness and melodic doldrums – only to be interrupted by sudden outbursts of sheer fury.
After having recently released a 7-Song CD on Hardcore/Crust/Grindcore DIY-Label Ecocentric Records in September 2013, SERPENT EATER have now released their upcoming album with renowned Alerta Antifascista Records. Listen or buy their album digitally here or on vinyl here.

MÖRSER
MÖRSER,
based out of Bremen, Germany are an
"obscure yet long-running German outfit features two vocalists, two guitarists, and even two bass players. Such large line-ups typically denote some type of epic symphonic metal, but Mörser plays a seething death/grind hybrid, with animalistic vocals and a torrent of various riffing styles wrapped up into a surprisingly effective package…."  – full write up at
Last Rites.

Listen to 2 songs from Mörser's "1st Class Suicide" at Punkdistro  (www.punkdistro.bandcamp.com/album/m-rser-1st-class-suicide) or check youtube for more.
BLANK walk a thin line between blackened dark hardcore and metallic crust that might resemble most characteristics of typical crust bands, but never looses the hardcore drive and intensity behind it.
(sorry, no photos.)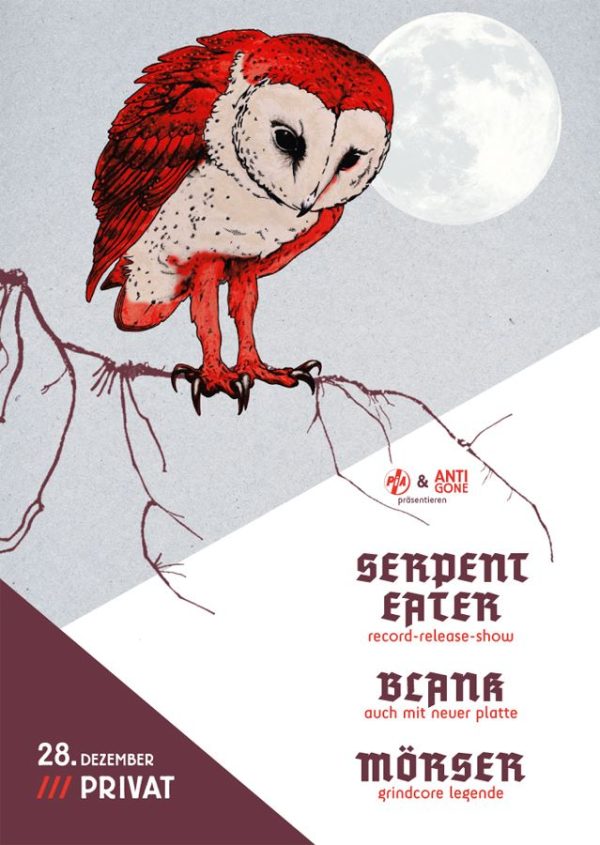 More links:
serpenteater.bandcamp.com
facebook.com/SerpentEater
serpent-eater.tumblr.com
facebook.com/Morser.Bremen
blankhc.bandcamp.com
blankhc.tumblr.com
facebook.com/blankhc