Out Of Stock is a skatepark exhibition depicting the past and present of Stockwell Skatepark, in South London.
The opening show is at Stolen Space, August 18th, 2011 (this Thursday).
Featuring art, photography, installations and films from the following: French, Fos, Lovenskate, Wig Worland, Adam Johns, James Thompson, Marty Thomas, Alban Connell, Craig Scott, Alana, Lawrence Ferguson, Ngusucker, Alexander Bartsch, Tim Tutak Tristan Tutak, Solo One, Tizer, Shucks One, Nik Jones, Eyefeelsick, Mylon Domican, Thomas Slater, Kyle Platts (Earth Pain), Scott Madill, Jamie Arghh!, Alex Irvine, Stevan Shanks, Vaughan Baker, Winstan Whitter, Gorm, Oscar Murray, Chris Johnson, Matt Gold, Bob Smith, Jonny Haywire, Ross Gilbert, Adrian Downie & Tony.
For more info:
http://outofstockwell.co.uk/
http://outofstockwell.blogspot.com/

Video shot in 2006 by Jonathan Hay.
Edited in 2011 for Out of Stock.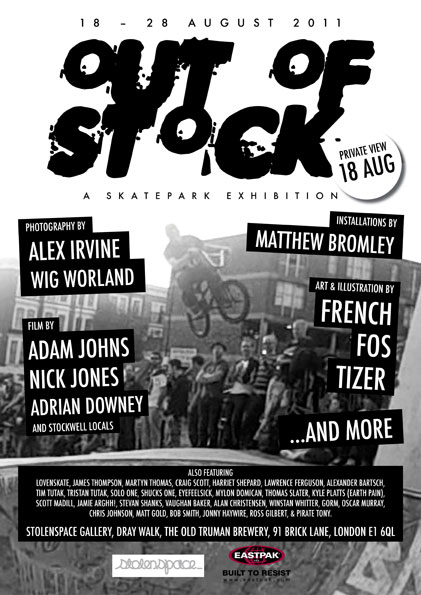 Location:
Out Of Stockwell – 18th-28th August
Stolen Space
Dray Walk,
The Old Truman Brewery
91 Brick Lane
London E1 6QL
United Kingdom