A few years before we found the place where we built today's little skatehall paradise including germany's first indoor concrete bowl and a big wooden street / flow section, we had a much smaller skatehall, just a few hundred meters from our current place.
The worst part of losing the old skatehall wasn't really the loss of the skatehall itself, but of the small concrete DIY park which we built in front of the hall. Many people would say that this park was really shitty, but we loved it. It was the first time for our crew to build with concrete, we didn't have any concept or a license and in the end most the ramps were very bumpy and sketchy to skate, but, at least for the people who built it, it was paradise. When it was finally pulled down, we all knew that as soon as we'd find a new place, we'd start to build again…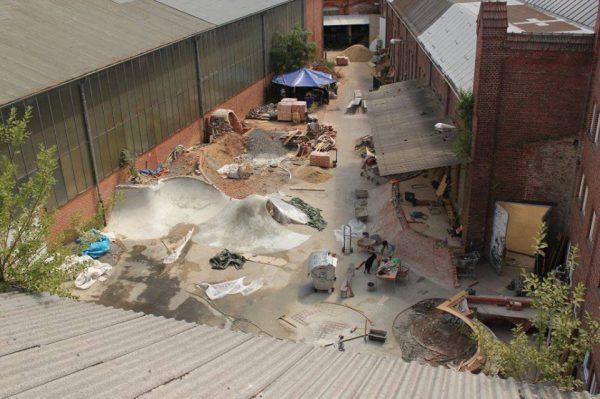 And here we go! In spring 2013 we started to build a new concrete park next to our new skatehall and we will finish it this summer. Right now it all works out very well: a few experienced workers from other cities started helping us and our own working skills are growing. Another really good thing is that the father of one of our members organizes a lot of building material which we get for free. He organized us a granite-flatrate and from time to time also steel, cement, sand and lots of other things. We also integrated many multifunctional obstacles into our park, for example a pizza oven, a stage for concerts, a floodable Jacuzzi, graffiti walls and a bar – everything skateable, of course!
The grand opening takes place on the 30th August 2014 and at the same weekend we will also celebrate the 25th birthday of the Mister Wilson Skate Club with some bands and a photopresentation from the early days of the club in the late 80's/ early 90's.
If you want to join the building crew for a few days or weeks, just contact us via facebook (Wilson skatehalle) or e-mail (info@mister-wilson.de).
Special thanks to Baum from Minus Ramps, Yannik and Lüne from the 2er / Yamato crew, Jan and Rapha, Linus and Calvin's dads and everybody else who has helped us in any way.
Words + photos + 5-0 grind by: Matze Weiland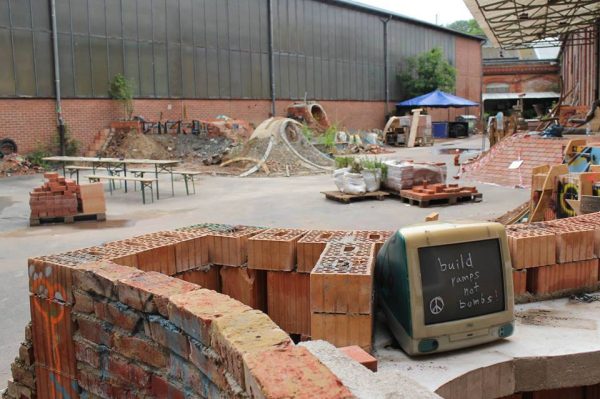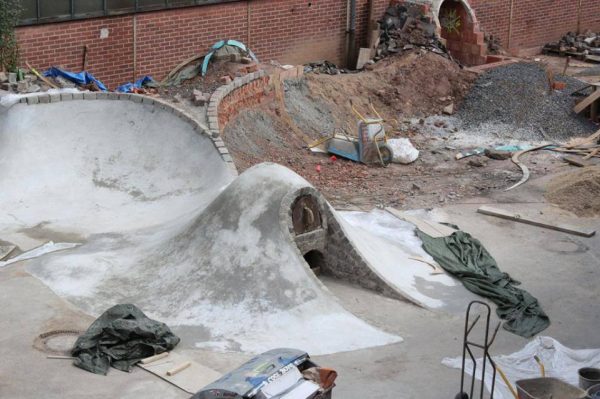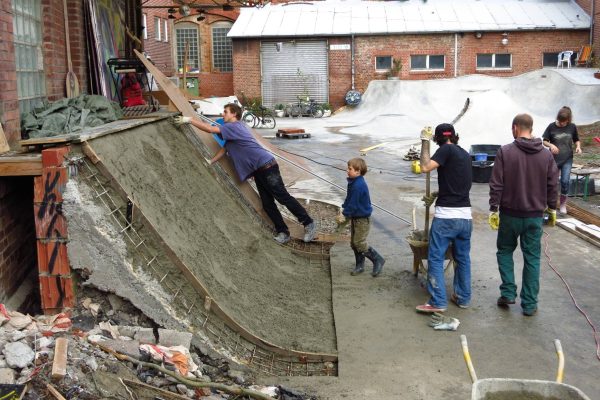 Update: April 2014
Overview of Mister Wilson's INDOOR Park