It's not that strange to me that skate spots are so monumental to us skateboarders. As most ancient native cultures give respect to stones and rocks saying they have great memory and history stored… Concrete is stone and the sidewalks we surf are sacred as well…
They become a part of us and we leave pieces of ourselves in them… I've had little premonitions about skate parks for as long as I can remember… Ten years before Hermann's Hole I had a reoccurring dream that I moved back to my parents home in Missouri, and built a concrete park in their backyard… A few days before Glen Wagner and Joe Pino built the first quarter pipe at WSVT I had a dream that I was doing front pivots on a concrete quarter pipe with curb coping under a bridge.
Back in March 2009 I was In Portland, Oregon and skated Burnside one morning before flying home to St. Louis, Missouri…. On the way home I couldn't stop thinking about how we must have a bridge somewhere in St. Louis where we can build a Burnside style park.
I got home and the next day my roommate told me to go to this bridge on Kingshighway Blvd. where some teenagers had been building skate obstacles…. I really didn't believe it but I went to have a look…. It was there and just 6 blocks from my house!! They had built some obstacles already with no technical knowledge. They had a wallride on a pillar, a cinderblock ledge with angle iron and newly poured concrete on a barrier….
The options were there and clearly some motivation too!! I met the kids who had been building things there later that day and we poured a few more barriers right away. At one point we counted 33 concrete jersey barriers under the bridge just waiting for skate creations to be dropped on them.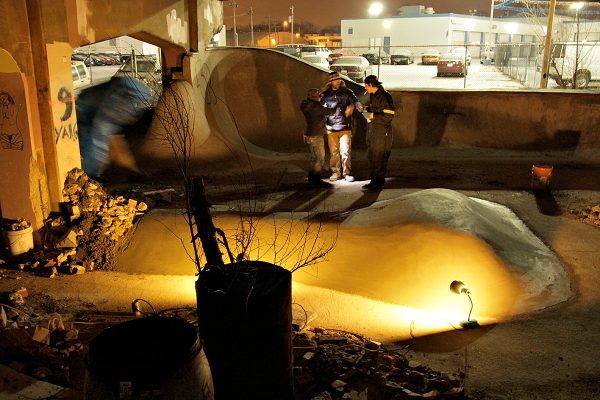 Weeks and months went by. Old friends popped up and new ones were made. A few of us had visions of a bowl at one end of the bridge. A solid crew of local builder types formed and to get started we poured a nice 8 ft. wide quarter pipe with pool coping in July 2009. That was the first close to professional build we had with forms and rebar at Kings. It was the beginning of the bowl and the beginning of more support for things to come.
I began taking materials from my place in Hermann and we started spending days working under the bridge to set up more bowl pours while at the same time working on obstacles at the other end of the spot to keep the street kids happy.
Many days I'd go there intending to work on the bowl but somehow I'd end up building a pyramid or spine piece at the street skaters request…. We eventually found time to squeeze in bowl pours. Dec 23rd 2009 was one of my favorite pours, the sewer lid love seat wall. It turned out great!! Only 50 bags of crete filled it up. I think that was the day we started talking about creating a nonprofit organization to raise money to build more. Then it was on!!
We were there even more often through that winter in all temperatures setting forms for the big pocket. Then that summer 2010 we poured the vert wall. We started holding fundraisers to raise money regularly and gained support from the surrounding community and city government. We were pouring concrete from trucks instead of mixing bags and we began building real permanent skate park style structures….
Things just got moving faster and faster!! Whenever we would pour a bowl section we would have a street obstacle set to pour the same day.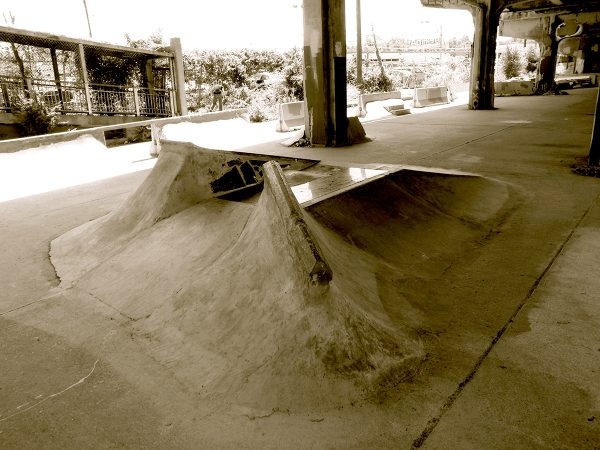 We poured in any weather thanks to our steel and concrete canopy.. We survived on cheap pizza and beer… Most of the time we had enough workers show up to help. Sometimes we were few but it got done always.. I'm not here to do a head count or mention names in a thank you list. No pats on the back from me on this page. If you were there you know it and if you're claiming you were there, then your arm must be sore by now.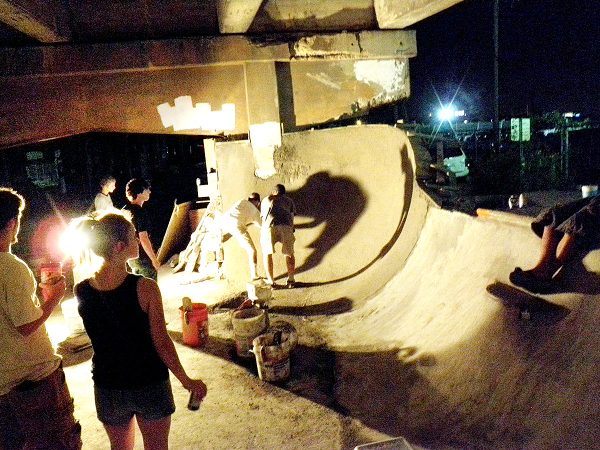 Every obstacle and concrete pour under that bridge has a story and the names of those who built it sealed into it as well as the great amount of skateboarding that has happened there is written in black shreds on and around the coping…. If you know how to ask the concrete will tell you who created it.
Without Kings Highway VT many of the young skateboarders from the St. Louis area would've never skated concrete pool or parking block type coping embedded into this style transition…There was No Roundwall to skate here.. Now theres plenty and I have seen the difference too!!!
There are a lot of guys that have gone through high school, graduated gone on to careers while skating Kingshighway every day for the past 5 years!!! Little rippers that grew up with it!!! They are ATVs because of the poolish Burnside style we created under our bridge… Having that place to skate has evolved Missouri skateboarding in so many ways..
Its also brought St. Louis more coverage from skate magazines, local and professional skate videos, documentaries, arts, rap videos, commercials, news broadcast, newspapers, even more than I really know!! I just found out yesterday there is something about Kings Highway Skateboarding in a Saint Louis history museum!! Maybe the reason why kids like Kings Highway bridge park so much is because it's the only skatepark in St. Louis at all…
That's right!! The city of St. Louis has never spent a penny on skateparks, and as of right now they don't intend too… We built the only public skatepark in our city ourselves and now we are going to do it again…. A new DIY spot is born on Earth every day… The need and want for these spots will never die… It will only become stronger!!! There will always be more spots and parks built and there will never be enough.!!!
Now it's 2014 and many great things have been built under our bridge. The Kingshighway bridge structure is almost 100 years old and is one of the oldest bridges in Missouri. The city of St. Louis is planning to replace it soon due to its epic decay. They support our skate park and would let us stay forever but the bridge is no longer safe and must be destroyed to make way for a safer bridge.
Our non-profit organization, KHVT, already has a plan and is currently under construction building a new park that is on safer ground that will stay forever. If you would like to donate to our cause please contact us at kings.highway@yahoo.com or hit the DONATE tab at www.KHVT.org.
Thanks to everyone who has helped our struggle so far but we're not done yet!! We've only just begun!!!
Article by: JP Kraus