Resurrect The Ring
Words by Marty Rees
Photos by Josh Feggans / @insomniajosh

Located on Ballarat Road in Braybrook, a western suburb of Melbourne The Ring Of Fire is by far the best indoor bowl in Australia, hands down, no contest. The build started in May 2003 (the month June Carter died) and finished in September 2003 (the month Johnny Cash died, hence why it was named The Ring Of Fire) by Tom 'Flazza' Flaherty and the ruffians of the westside crew.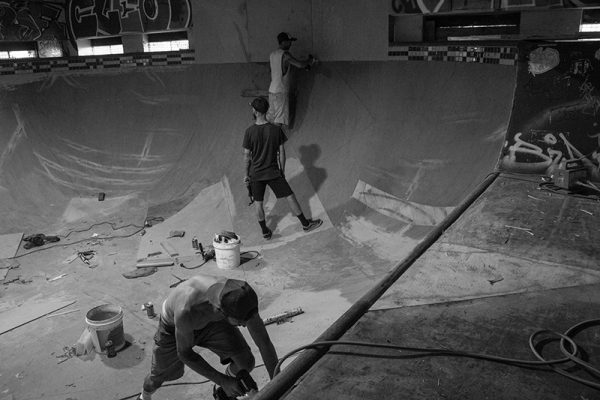 Once it was finished it quickly gained a reputation as being a fast and hectic bowl to shred. I remember seeing some heavy sessions go down there back in the day with some of Melbourne's biggest legends tearing the place apart. But ever since those early days the future of the ring has been up and down.
The biggest problem has always been maintenance of the bowl, and as of late the old girl had fallen into pretty piss poor shape. The surface of the bowl needed some serious attention and roller bladers (those infernal dogs) had waxed a foot of the transition below the coping and behind the coping. This is where we stepped in.
After talking with the owners of the building (the building is a part of a go kart /entertainment complex that is run by backwards bogan redneck carnies) a deal was struck where if we maintain the bowl and promote and bring in paying customers, we can skate the old girl as much as we want. Two months on since we knuckled down and gave her the well deserved attention she needed, more sessions have gone down than have happened in a long time.
So if you're in Melbourne and keen for a skate in Australia's best indoor bowl, hit us up on Instagram @the_grim_creepers or facebook for a skate and we'll sort you out. GO FAST OR FUCK OFF!