I first checked out Scheisse Manelli back in 2006 at the Jury Room in Santa Cruz. Advertised as "skate punk" from Germany, I had to go check them out. Classic hardcore punk 'n' roll with songs about rebellion, skateboarding, and running from the cops. I asked the singer, Samuel el Action for a CD after the show, to review in my old magazine, Concussion. For the next five years, every time they were playing in California, I was in Europe, and every time they played in Europe, I was in California. Finally, five years later, we were both in the same city at the same time.
As an added bonus, they were opening for legendary old school crossover metal hardcore band D.R.I. I have a similar (not so interesting) story about D.R.I. When I was 13 and going to speed metal concerts all over the San Francisco Bay area with my older brother and friends, I knew who D.R.I. were, and I always saw them on metal/punk flyers, but somehow, unfortunately, I never made it to see them in all those years… So when D.R.I. and Scheisse Manelli were playing together, a five minutes from my house, I had no excuse not to miss them. The show was in a small cellar metal bar and the show went off!   – J. Hay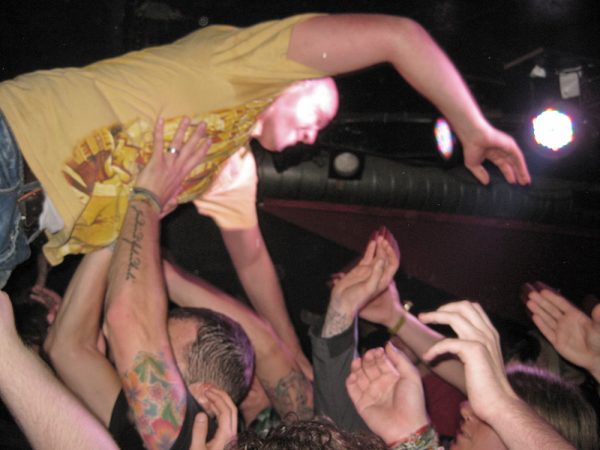 Photos: Jonathan Hay
Scheisse Minnelli tour dates:
Sun, Nov 6
8:00 pm
Baroeg
Rotterdam, NL
w/DRI, The Accused, SSS, Hammercult
Sat, Nov 26
4:00 pm
Oakland Metro
Oakland, Ca, USA
w/Dr. Know, Attitude Adjustment, Cheapskate, and more!
More info:
scheisseminnelli.com/
D.R.I tour dates:
11.06.11 ROTTERDAM, NL – DE BAROEG
11.07.11 OSNABRUCK, DE – BASTARD CLUB
11.08.11 HAMBURG, DE – MARX
11.09.11 COPENHAGEN, DK – THE ROCK CPH
11.10.11 BERLIN, DE – CASSSIOPEIA
11.11.11 MUNICH, DE – BACKSTAGE
11.12.11 PINARELLA DI CERVIA, IT – ROCK PLANET
11.13.11 ROME, IT – TRAFFIC LIVE CLUB
11.14.11 MILAN, IT – LO FI
11.15.11 GORIZIA, IT – PIEFFE FACTORY
11.16.11 ULM, DE – BETEIGEUZE
11.17.11 STUTTGART, DE – GOLDMARKS
11.18.11 BOCHUM, DE – BAHNOF LANGENDREER
11.19.11 STEENWIJK, NL – BUZE
11.20.11 ANTWERP, BE – TRIX
More Dates >
More info:
dirtyrottenimbeciles.com/