Good news from France!
Belgium based company Concrete Flow under the head surveillance of legendary Michel 'Mike' van der Ouderaa has just finished a nice kidney pool on the French atlantic coast 300 meters from the beach in a little seaside town called Mers les Bains. It's located 10km north of the Normandy borders about 180km north/west of Paris. As an extension of the already four year old existing small but decent street area the crew was hired to bring some backyard pool flavor to town, in which they quite succeeded with their redneck punk rock attitude alone. Damn, those bloody Belgians can drink some beer.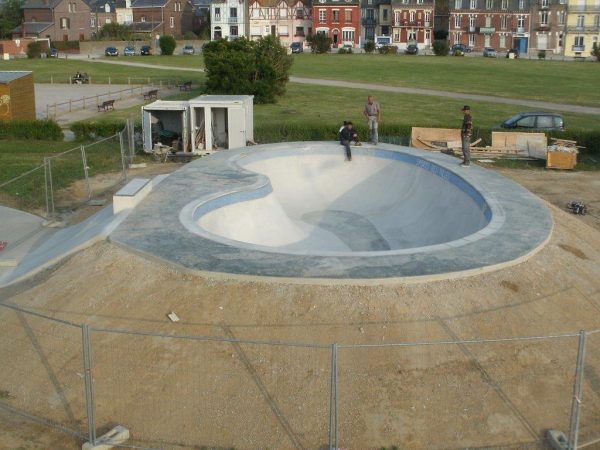 It was quite an international crew with some Belgians, a German, a Portuguese, a Peruvian and Alex from Lugano, Switzerland, who wrecked himself at the Ramp Jam in Belgium and was replaced by Jonatan from Copenhagen, Denmark. So in 17 days our crew completed this nice Kidney with two stairs in the shallow end and a death box in the deep end, complete with hand crafted pool coping courtesy of Pudi and tiles all along. That should satisfy every pool enthusiast out there. The deep end stands strong with 2.40m (8 feet) high and the shallow is 1.80m (6 feet). The grand opening along with a demo by fellow Belgian transition masters will be held the coming weekend on Saturday the 20th of July. Mers les Bains and the neighboring fisher town of Le Treport are a nice holiday destination in the summer months. Get on the road, go there now and enjoy life!
Thanks to Mike, Greg, Koekie, Ben, José, Romel, Alex, Jonatan and architect Julien for this masterpiece, some jolly good times and friendship for life. Special shout-outs go to the skaters from Amiens for keeping it real! Skateboarding is still No.1…
Words & photos by Arne Fiehl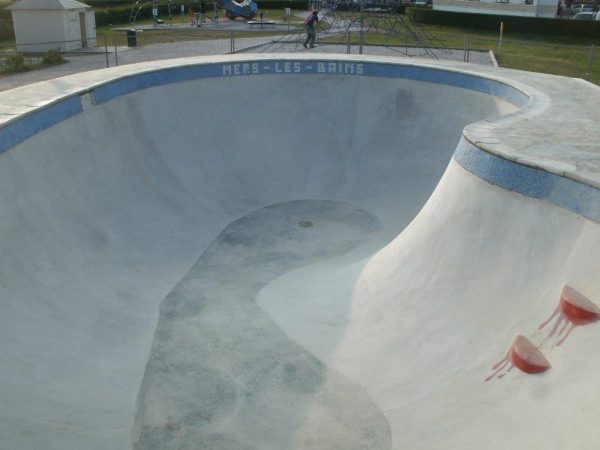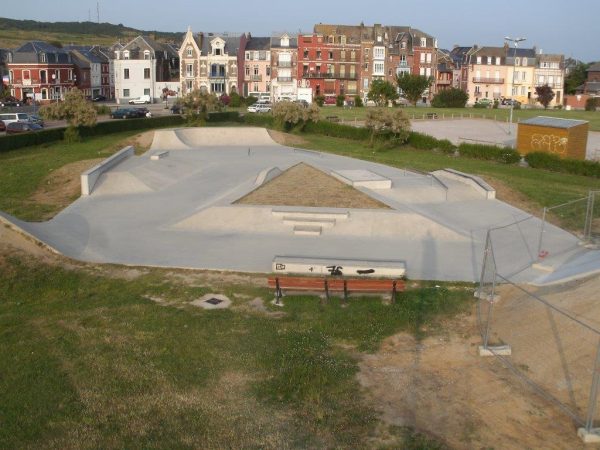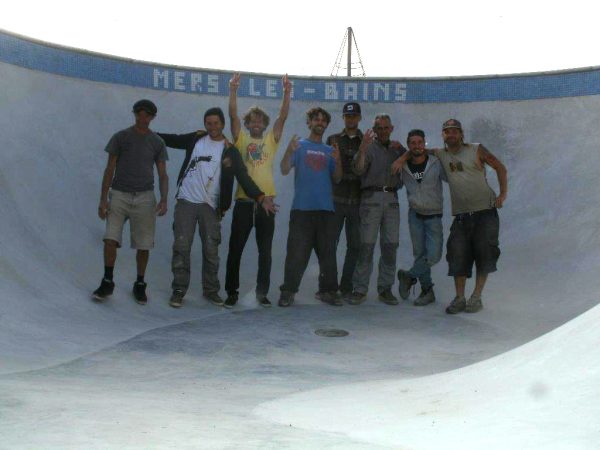 The inauguration of the Bowl de Mers les Bains is this saturday, July 20th at 14:00. With all terrain rippers Jarne Verbruggen (Bel), Szymon Stachon (BEL), Tim Jacobs (BEL) and Nick Bax (HOL), Damien Delsaux (BEL) and Bram De Cleen (BEL) and a lot more.