FINALLY FINISHED FRANCE
Good news from France! Concrete Flow was finally allowed to finish the bowl in Bruay la Buissiere. As I told before, due to ridiculous bureaucratic incompetence on the French side, we couldn't finish the project last year. There was still a piece of flat missing in the deep-end just like the backsides of the extensions. And there were still about fifty pool coping blocks to be placed for eternity. So we took care of that last week and the whole platform is going be done by the damn local company that gave us such a hard time. They still have the chance to fuck a lot of things up, but it's not in our hands anymore. We did the best we could and couldn't care less at this point of time. The big hole in the middle part of the deep-end is taken care of by architect Stephane himself so we will see what it`s gonna end up like.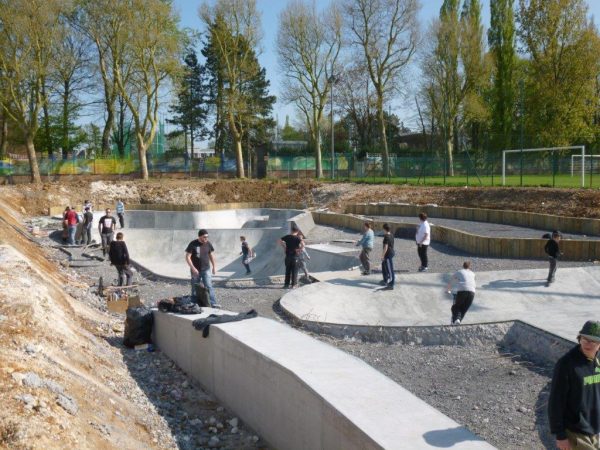 Anyway, it was good to see all those kids and local skaters actually using the park although it's still a construction side. Things are different in Bruay la Buissiere and the bowl already looked as if it was two years old. Well, it was made for usage, I guess, but please take care of it a little bit! I mean, it was cool to see the kids with the encouragement of some older skaters finally dig out the two cubics of clay that ended up there because of uncautious ground work. So, yeah, the whole park should be finished in two weeks and really deserves some serious shredding. It's still one of the deepest in Europe and we'll see who's gonna make the grind from deep to shallow end first, especially on the pool coping side.
Righty right, that's it for now, big thanks and thumbs up to Mike, Greg, Koekie, Alex, Slourie and Jan-Willems for keeping the concrete flowing. I'll soon let you know what Minus Ramps just finished in Bremen, Germany – some epic shit for sure. Take care everybody!
Text & photos by Arne Fiehl
For the previous article FRIED IN FRANCE, about the building of the park, click here.