I discovered the works of Redwood City based artist, Nicky Gaston the year of 2007 in Skate Works through some close friends of Jason Strubing and mine. I became really interested in him not just as a skateboarder, but learning that he had more talents than one. He was not just a skateboarder, but also a skate shop manager as well as an artist. When I skate with him he seems to barge everything and give it his all. It's like he does that with everything and has amazing energy that people can feed off of. – Sid Enck
What has been your motivation to get on your board and keep the paintbrush moving?
Both skateboarding as well as artwork have been an everyday deal and it is impossible not to incorporate them throughout the day. Recently I found a way to combine both which has added extra motivation to keep skateboarding and painting. The reason for me to land a specific trick is the same idea for finishing a painting.
How old are you and at what age did it come apparent that skateboarding and art went hand in hand with you?
I'm now 25 and have been skateboarding for the past 13 years. Skateboarding and art are related to one another in the culture. Company logos and graphics have influenced me in several ways and throughout my injuries I found myself killing time by painting. When I blew my leg out, incorporating skateboarding within painting was my way of keeping skateboarding alive for me.
You seem to be a really busy person lately with being a boyfriend, student, artist, skateboarder and shop manager. Where do you get the time to enjoy what you love in life?
There is so much intense shit within the day, but the nights have been a much better time to skate or paint. As long as I have incorporated most of the subjects in the day then I have enjoyed that day. Working at Society skateshop has allowed me to enjoy my job as well as keep the day interesting.
What projects are you involved in lately?
I'm always working on new projects such as paintings, company graphics, and short skate video's. Lately I've been learning more about the digital aspect of art and the printing process within decks, clothing, etc. I'm interested in learning about the entire designing process within the skateboarding industry.
Tea shack project is about to drop the spring catalog and you recently did a graphic for it? What was it and what was the inspiration behind it?
I'm really stoked to see the spring catalog and can't wait to see the new work from everyone. I'm going through this repetitive animal drawing phase so I thought I would illustrate a buffalo for this one. I have done multiple bird graphics for Tea Shack over the years and its time to switch it up for once. I was hiking when you called me to get in the graphic for the spring line. I needed an idea to run with and saw a shack surrounded by buffalo. I had my sketchpad and started to hit up the graphic. It came out with a Western look so I designed the font to match the graphic. I think it came out good.
How long have you been involved with tea shack and what are you views behind it?
I have been involved with Tea Shack since my buddy Lucky introduced me to Sid Enck. The company had an independent and pure style and involved all the elements I have interest in. Sid is a motivating and busy guy and always working to improve the company's future. With the involvement and featured artists such as Steve Cab, Jason Adams, Jai Tanju, Patrick Jillbert, Sid Enck, and many more, Tea Shack has brought several influential people together to create an amazing company concept. I can go on, but in the meantime check out the Tea Shack site at www.teashackproject.com!
Who are you inspirations behind your art and skateboarding?
Growing up in Redwood City I spent most of days bothering the Strubing family at Skateworks as well as skating in the parking lot. I was stoked on all the local rippers like Pete the OX, Phil Shao, Jackson Taylor, Scott Bourne as well as the Strubing talent. That location had a huge impact on skateboarding for me and through that location we formed a rad group of friends that all did the same shit. At the time I was stoked on artists such as Andy Howell, Ed Templeton, Mike Giant, Jeremy Fish and the list goes on. I collected decks that had original work and was big on all the early St. corner graphics.
You're an amazing skateboarder and your not riding for a board company. What's going on with that?
I'm not too concerned with having any type of sponsorship. If something comes along that I enjoy then that's awesome, but otherwise I'm okay with just enjoying skateboarding without all the weight. I wish I had more time to film, photos, and take trips, but my work and school schedule is intense.
Your paintings can have that acid trip look to them. I feel like when I'm staring at your art it could be as if looking at old record covers, where are these ideas coming from?
Drugs are by far the most influential benefit to art and I love dropping acid all day!!! No, but really, I don't do any drugs; I just paint weird shit I guess. My paintings are more so automatic surrealism and are not usually being reenacted from any photos. Sometimes I may draw an image, but then I will add symmetrical patterned to fill extra space. I really dig contemporary art and all the Fillmore posters made over time!
What's going on with your website?
I'm kind of broke and can't afford to invest too much into a site. I'm currently using a free web domain name, but it works as an online portfolio. I constantly update images as well as future art shows. Check it out at www.nickgastonart.jimdo.com.
Have you gone to art school?
I'm getting my degree in graphic design and business at the moment. Although school has its benefits and has taught me quite a bit, I prefer to learn independently at my house. My school is all about historical artwork and is stuck in a caveman era, but thank god I'm almost finished. I'm actually writing this interview in a class now!
Have you ever had the chance to do an installation?
I've wanted to do an installation for days and hope to find a convenient space soon. I'm collecting hundreds of broken decks from local skateshops and am eventually going to use them for something. Any Ideas?
What is the next step for art and skateboarding for you?
I plan to keep doing new things to keep my interest and motivation up. I'd like to help grow Tea Shack as well as travel once I'm finished with school. I guess just keep doing what I've been doing all along.
What artist out there are you close to that you're stoked on?
I have several friends that are involved in art such as Sid Enck, Johnny Gomez, Colby Quinlin, and my lady Lacey Casteel. Their work is all original, unique, and influenced by one another. My buddy Colby has a rad 6ft halfpipe in the redwoods with a fucking tree fort on top. Does it get much better than that!
Any last words or something to say to the young trying to live their passions?
Give it up and work in a cubical! No, do the opposite! Use your skills and friends around you to consolidate your passions. Just enjoy what you do and make sure that you are the one being satisfied!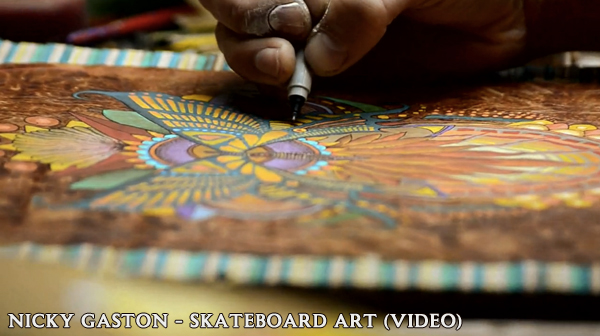 Art video filmed by Nicky Gaston: https://vimeo.com/29567970