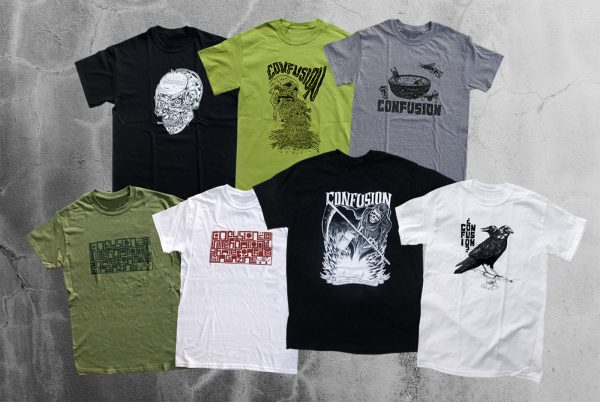 New CONFUSION T-Shirts and a few limited reprints now available!
SUPPORT YOUR LOCAL SKATESHOP and buy the t-shirts directly from a real skateshop if possible. You can find out where in the world to find Confusion here.
If your local skateshop doesn't sell Confusion magazine or any Confusion merchandise, ask them to, or send us the name and contact of your local shop to shop@confusionmagazine.com and we will contact them so you can buy local and support your local skate scene!
If you don't have a local skate shop that sells Confusion, you can buy them here at the Confusion Shop.
Confusion T-Shirt Designs:
SKATE-LIFE SKULL by Papada (from Spain)
CONFUSION INTERNATIONAL SKATEBOARD MAGAZINE by Fernando Elvira (from Spain)
ACID PUKE by Craig "Questions" Scott (from England)
BEE DIY by Hirotton (from Japan)
TWO HEADED CROW by Jack Lammas (from England)
GRIM REAPER by Sadam (from Japan)
Go to the Confusion Shop for more info and larger images of each tshirt design.