While I was down staying in a hotel in an industrial shit hole of a town, Spreitenbach, which is near the grand city of Zürich, Switzerland  I was contacted by Lars Greiwe and Bertrand Trichet to let me know they'd be heading up from Barcelona to take care of some business in Basel, about 45 minutes from where I was staying. I decided to get out of the hotel and join them for an evening in Basel with a small adventure to follow across the border into southern Germany.
I met them at the Basel train station and we went to check out the Blackcross bowl, which was only a few blocks away. Being  winter time across Europe, there was water and other crap in the bowl and it wasn't skateable but still cool to check out. If the bowl seems to resemble the Steppe Side bowl in Mälmo, Sweden, that's because Pontus Alv was also the "brain child" of this interesting bowl, which was in a way a dedication to his dead father and grandfather, thus the Black Cross sculpture.
With a pump bump whoopdeedoo seemlessly connecting the two bowls together and beer cans filled with cement as the coping on the 3 foot extension, a big wooden Black Cross for possible "cross rides" to fakie, and pool and concrete coping all around, this bowl looks like it was about as much fun to build as it was to skate. The Pool coping was made just north of Basel, near the city of Frieburg, by a guy named Pudi who makes his own Pool coping when the weather isn't too cold for the concrete to set – PPC (Pudi's Pool Coping).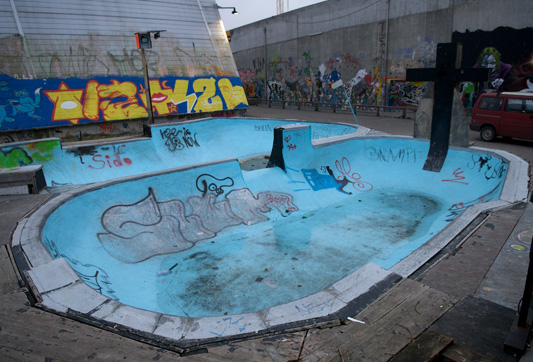 Speaking of Pudi, that was our destination of the night, and we were off North to meet the infamous Pudi and check out his secret indoor wooden barn ramp, set with his own pool coping.
I'll be sure to return when the weather clears up for some beers, bowls, barbeques, and endless grinds and fun sessions at this bowl, where it looks like you just make up your line as you go, switching from bowl to bowl, grinding the coping and generally having a bl'ast. – J. Hay
For some "action shots" and general shenanigans from sunnier (and not so sunny) days, check out the BlackcrossBLOG
For some video footage of the bowl in action, check this.
Or this video with Pontus Alv his inspiration for creating the Black Cross Bowl